I have made the Bread and Butter pickles which by the way are so good that my hubby eats them for a snack. I wanted to try making Sweet & Dill pickles as well. We have pickling cucumbers still going strong in the garden and wanted to preserve the fruits of our labor. The recipes are below:
Note: Both of these recipes I raw packed which means I sterilized my jars and packed the cucumbers after they had been brined then rinsed off the salt and put into the sterilized hot jars and added the hot liquid over them before processing them in the water bath.
Salt Brine – slice cucumbers and add pickling or kosher salt and cover overnight to release water.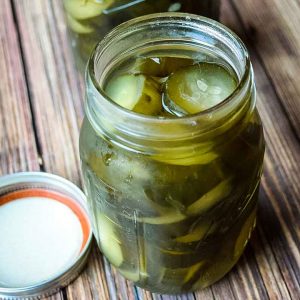 Sweet Pickles
Ingredients
3/4

cups

pickling salt

2-3

lbs

pickling cucumbers, washed and sliced width wise

3

cups

sugar

2

cups

vinegar

2

T.

pickling spices
Instructions
Stir pickling salt into sliced cucumbers in a large non-metallic container and let stand overnight in refrigerator.

Rinse cucumbers thoroughly the next day with cold water and pack into your pre-sterilized canning jars.

Mix remaining ingredients until sugar is dissolved; bring to a boil. Slowly pour over cucumbers.

Clean pint jars, leaving ½-inch headspace, wipe rims. Add lids and rings.  Process in water bath for 15 minutes for pints (start timing when water boils)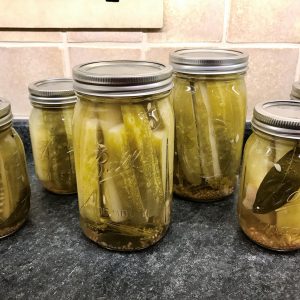 For Dill Pickles
Ingredients
4

cups

water

3

cups

white vinegar

1/4

cup

kosher salt

1/8

cup

sugar
Instructions
Slice or spear cucumbers and pour an additional 3/4 cup salt on them overnight covered in the refrigerator. The next day pour the cucumbers into a colander and rinse off the salt.

Combine the water, vinegar, salt and sugar in a stainless steel pot till it comes to a simmer.

Add 1/8 t. of each of the following to each sterilized pint jar before adding cucumbers:

dill seed (fresh dill add about 3 sprigs)

mustard seed (yellow, brown, or red)

peppercorns (red or black)

Also you can add 1 medium garlic clove - that makes them "Kosher Dills".

Remember when cold packing the cucumbers you want the spears not to exceed the 1/2" headspace so that the hot brine will cover them in the jar. Cut the spears to fit vertically if needed.

I always seem to make more than enough of this rather than too little. Vinegar is inexpensive in the big jugs!

Pour over packed cucumbers leaving 1/2" headspace. Remove air bubbles, refill to 1/2" if needed, add hot lids and rings and process in the water bath for 15 minutes at a full boil.