Now that we have pickling cucumbers coming each week I am working on perfecting my Bread & Butter and Dill Pickles. First the Bread & Butter… Using the fresh picklers from my vine in the back yard here is the recipe that I found that will be a great addition to the canning pantry.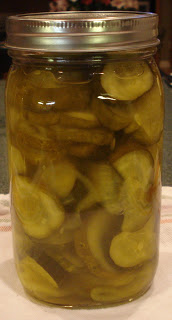 Bread and Butter Pickles
This recipe is taken from the Ball Complete Book of Home Preserving... 
Ingredients
10

cups

sliced pickling cucumbers

3

pc.

onions, thinly sliced

1/2

cup

Kosher salt

3

cups

white vinegar

2

cups

sugar

1

teaspoon

turmeric

1

teaspoon

celery seed

2

teaspoons

mustard seeds
Instructions
Note: Do not use the ends of the cucumbers. The enzyme in the blossom end will make the pickles mushy.

Combine cucumbers, onions, and salt in a large bowl. Mix well and set aside for 2-3 hours in the refrigerator.

Rinse the cucumbers several times then drain thoroughly. Combine vinegar, sugar, turmeric, celery seed and mustard seed in a large pot. Place pot on medium low heat. Add the cucumber mixture and bring almost to a boil, but DO NOT ALLOW TO BOIL. Remove from heat.

Using a slotted spoon ladle cucumber and onion first to the jars and then fill with liquid to 1/2" headspace.  Remove air bubbles, refill to headspace if necessary.  Clean rims, add hot lids and rings. Process 15 minutes in a hot water bath at a full boil.