At the request of my friend "down under", Megan, and others who can not use the Pinterest through Facebook, I am posting the recipe for the infamous Roasted Red Pepper Spread from the Ball Book. Megan, who is currently living in the opposite climate as me in Western Australia, is working on recipes that I did last summer. I am so excited to have her canning at all since she has been experiencing some glitches in getting canning equipment and supplies shipped to her. I have sent her the current Ball Book and a pound of Clear Jel since shipping from some of these vendors has been outrageous.
This spread has been a current hit in the house for pizza sauce on fresh made dough, a dipping sauce for homemade soft pretzels, and for me its a great substitute for ketchup to give me that roasted flavor of peppers and garlic that are so amazing. You can also use the spread for bruschetta topped with a bit of mozzarella or ricotta cheese or use it as a sauce for ravioli.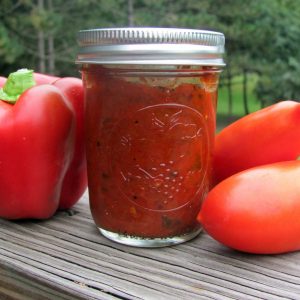 Roasted Red Pepper Spread
It has strong flavors but when paired with the right pasta or bread it will leave a lasting impression. Enjoy!
Ingredients
6

lb

red bell peppers (about 14 medium)

1

lb

Italian plum tomatoes (about 5 medium)

2

cloves

garlic, unpeeled

1

pc.

small white onion

1/2

cup

red wine vinegar

2

Tbsp

finely chopped fresh basil

1

Tbsp

sugar

1

tsp

salt
Instructions
ROAST red peppers, tomatoes, garlic and onion under a broiler or on a grill at 425°F, turning to roast all sides, until tomatoes and peppers are blistered, blackened and softened and garlic and onion are blackened in spots. Remove from heat.

PLACE pepper and tomatoes in paper bags, secure opening and let cool about 15 minutes. Allow garlic and onion to cool. Peel garlic and onion. Finely chop garlic. Set aside. Finely chop onion, measuring 1/4 cup. Set aside. Peel and seed peppers and tomatoes. Place peppers and tomatoes in a food processor or blender, working in batches, and process until smooth.

PREPARE boiling water canner. Heat jars and lids in simmering water until ready for use. Do not boil. Set bands aside.

COMBINE pepper and tomato puree, garlic, onion, vinegar, basil, sugar and salt in a large saucepan. Bring to a boil. Reduce heat and simmer until mixture thickens and mounds on a spoon, about 20 minutes.

LADLE hot spread into hot jars leaving 1/2 inch headspace. Wipe rim. Center hot lid on jar. Apply band and adjust until fit is fingertip tight.

PROCESS in a boiling water canner for 10 minutes, adjusting for altitude. Remove jars and cool. Check lids for seal after 24 hours. Lid should not flex up and down when center is pressed.
Notes
Makes about 5 (8 oz) half pints