Another great condiment for the summer that takes care of some of the variety of tomatoes we grow or have at our markets is the ketchup. One of the most popular condiments in the world and we have the ability to capture the most amazing rich taste by making it homemade. One this site I also have another recipe for "Blender Ketchup" from the Complete book of Home canning. Jennifer: I used all the kinds of tomatoes you see in the picture…but mostly San Marzano, Orange Russian and German Orange Strawberry, with a few yellow zebra, black zebra, black cherry and black krim thrown in for good measure. So a combo of BIG fat juicy beef steak tomatoes and plum tomatoes. Just took a little longer to cook down to a nice thick ketchup due to the high juice content in the beefsteaks.

It does have very similiar taste, but YES soo much better, not as sweet, but still sweet and much more versitile in my opionion. I'm not a ketchup fan or should I say I wasn't, I now crave homemade!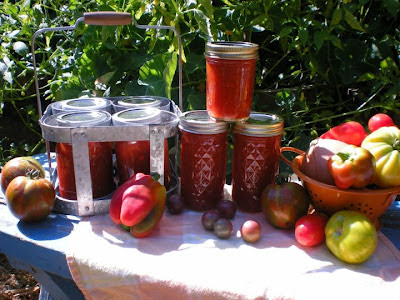 Homemade Ketchup
The recipe below is from "The all New Square Foot Gardener Cookbook" that Jennifer made and shared on my Facebook page.  I saw the final picture of Jennifer's work and her description of the flavor sold me. 
Ingredients
4

pounds

tomatoes, stem end cut out, quarted, seeds squeezed out (about 16-20 medium tomatoes)

1 or 2

pc.

onions, cut into chunks

1 or 2

pc.

sweet red bell peppers, cored, deseeded, quartered

1 1/2

cups

white or cider vinegar

1

cup

brown sugar

2

t

salt

2

t

dry mustard

1/2

t

whole allspice berries

1/2

t

whole cloves

Pinch of red pepper flakes or 1 inch segment of dried red pepper

1

pc.

cinnamon stick, broken
Instructions
Grind, process or puree the tomatoes, onions, and peppers in a blender or food processor, working in batches.

Pour the mixture into a large pot. Add vinegar, sugar, salt and mustard. Put allspice, cloves, pepper and cinnamon into a clothbag or cheesecloth. Add to the pan.

Bring mixture to a boil over medium heat. Reduce heat to slow and simmer, uncovered, for an hour or until the volume is reduced by half, stirring often.

Cook until the consistency and flavor is where you want.

Remove spice bag and ladle the ketchup into hot jars, leaving 1/2" headspace.

Wipe rims of jars and add hot lids/rings. Process in water bath for 10 minutes.