The summer reminds me that when we have a barbecue or picnic the foods that we put together seem to need some condiment that will kick up the flavor. Why not put together the most amazing flavors and home made jars of condiments that will not only compliment the foods that you make but adding a bit of "you" that makes it special. These are also some great gifts to bring to a barbecue for the host to enjoy after the party is over.
Canning your ketchup, mustard, relish and barbecue sauce couldn't be easier. Let's get to the recipes: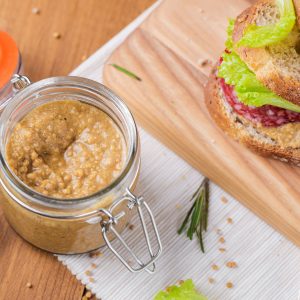 Basic Mustard
There are some very simple recipes and processes to made these a staple in your canning pantry.
Ingredients
1/4

cup

brown mustard seeds

1/4

cup

yellow mustard seeds

3/4

cup

cider vinegar

1/3

cup

water

1

t.

kosher salt

1

t.

dried spice (basil & lemon, or cardamom & fennel,  or allspice & tumeric)
Instructions
Soak the mustard seeds in the vinegar and water making sure the seeds are covered by the liquid. Leave soaking overnight.

Add the salt and spices to the seeds mixture. Start by adding about 1 tsp. of each spice. Blend mixture in a blender or "bullet" mixer until it reaches desired consistency, adding water if needed.

When you do a tasting if you need more spice add by 1/2 teaspoons.

When you are satisfied with the taste ladle into quarter pint jar and process in water bath for 15 minutes.

For the mustard recipes in the picture: http://sbcanning.com/search/label/Mustard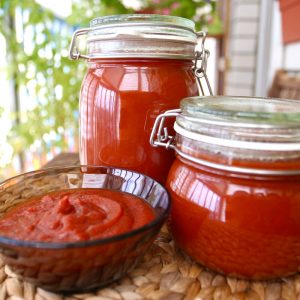 Blender Ketchup
Ingredients
7

cups

peeled and chopped Roma tomatoes (4 lbs)

1/2

cup

chopped onion

1/2

cup

chopped red bell pepper

2/3

cup

cider vinegar

1/4

cup

sugar

2

t.

kosher salt

1

stick

cinnamon, 2 inch long

1/2

t.

each: whole allspice, whole clove, peppercorns

1

pc.

bay leaf
Instructions
Combine tomatoes, onion and red pepper in a blender or food processor and process till smooth. Pour in large stainless steel or enamel saucepan.

Bring to a boil over high heat, reduce heat and boil gently for 30 minutes.

Add vinegar, sugar, and salt. Tie cinnamon, allspice, cloves, peppercorns, and bay leaf in cheese cloth and add to saucepan.

Return to boil and boil gently, uncovered stirring frequently until mixture thickens on a spoon, about 1 1/2 hours. Remove cheesecloth bag.

Ladle into jars leaving 1/2 inch headspace. Process in water bath for 15 minutes at a full boil.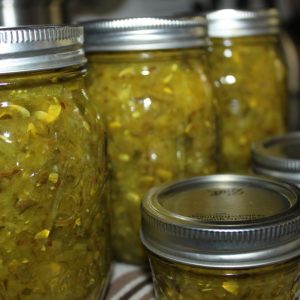 Pickle Relish
Ingredients
3

qts

chopped cucumbers

3

cups

each chopped sweet green and red peppers

1

cup

chopped onions

3/4

cup

kosher salt

4

cups

ice

2

cups

sugar

4

tsp.

each: mustard seed, turmeric, whole allspice, and whole cloves

6

cups

white vinegar
Instructions
Add cucumbers, peppers, onions, salt and ice to water and let stand 4 hours. Drain and recover vegetables with fresh ice water for another hour. Drain again.

Combine spices in a spice or cheesecloth bag. Add spices to sugar and vinegar. Heat to boiling and pour mixture over vegetables.

Cover and refrigerate for 24 hours. Heat mixture to boiling and fill hot in hot jars, leaving 1/2 inch headspace.

Remove air bubbles and adjust headspace. Wipe rims and add hot lids and rings. Process in waterbath 10 minutes.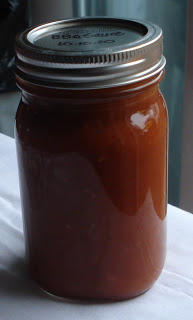 Summer Sizzle Barbecue Sauce
Summer Sizzle Barbecue Sauce
Ingredients
2

T.

Canola oil

2

pc.

medium onions, chopped

2

pc.

large cloves garlic, minced

4

pc.

large tomatoes, peeled and finely chopped

1/2

cup

dry red wine or beef broth

3

T.

liquid honey

1

T.

each: Worcestershire sauce and cider vinegar

1

t.

each dry mustard and green peppercorns

1/2

t.

each chili powder and salt

1/2

cup

tomato sauce

1

t.

brown sugar

1/2

t.

hot pepper sauce
Instructions
Heat oil in a medium stainless steel saucepan over medium high heat. Add onions and garlic and sauté for 5 minutes or until tender, stirring frequently.

Add tomatoes, wine, honey, Worcestershire sauce, vinegar, mustard, peppercorns, chili powder and salt. Bring to boil, reduce heat and boil gently, uncovered for 30 minutes or until thickened.

Remove from heat and puree in a food processor or blend till smooth. Stir in tomato sauce, sugar and pepper sauce, return to saucepan and bring to a boil.

Fill jars leaving ½ inch headspace. Process in water bath for 20 minutes.

This bbq sauce gets better after about a month. The vinegar mellows a bit and it has a sweet/heat flavor.