A couple of weeks ago I wrote about my sister Cheryl calling to tell me that she got around to making a recipe in her Small Batch Canning cookbook I gave her as a gift. It was the Cranberry Orange Marmalade, but she was having some issues with getting it to set to the right consistency. I received an email this morning that it turned out perfect and she said that it tasted fantastic. Cheryl likes marmalade's more than preserves and jellies because she loves the bite and tartness of the citrus. I also received a picture of her jars and want to really make sure that I let her know how awesome it is that she started me on this venture and I am so proud that she continues to make her own creations!
I dedicate this post to my big sister and her continued support and drive she gives me to succeed.  Good work Sista!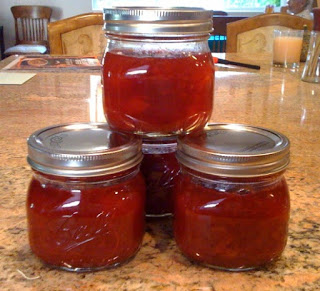 Cranberry Orange Marmalade
Here is the recipe and the yummy looking jars.
Ingredients
2

pc.

medium oranges

1

pc.

lemon

3

cups

water

2

cups

fresh or frozen cranberries

4

cups

granulated sugar
Instructions
Remove thin outer rind from oranges and lemon with vegetable peeler and cut into very fine strips with scissors or sharp knife; or use a zester. Place rind and water in a large stainless steel or enamel saucepan. Bring to a boil over high heat, cover, reduce heat and boil gently for 20 minutes.

Remove and discard remaining white rind and seeds from oranges and lemon. Finely chop pulp and cranberries in a food processor or blender and add to the saucepan. Bring to a boil over high heat; reduce heat, cover and boil gently for 10 minutes, stirring occasionally.

Add sugar to fruit mixture. Return to a boil over high heat and boil rapidly, uncovered, until mixture will form a gel, about 20 minutes, stirring frequently. Remove from heat.

Ladle into hot jars leaving 1/4" headspace, remove air bubbles and refill to headspace if necessary. Wipe rims with wet papertowel and add hot lid/ring and process for 10 minutes (boiling water canner).