Today is the 10th and I really wanted to have jars with 10-10-10 on the lid!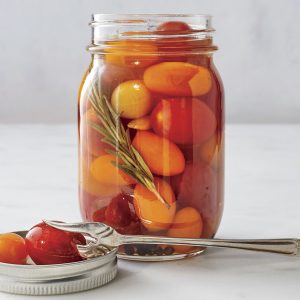 Pickled Cherry Tomatoes
Ingredients
1

quart

water

2

tablespoons

coarse sea salt or kosher salt

1

pound

FIRM (almost under-ripe) cherry tomatoes (round and plum varieties of all colors can be used)

2

cups

cider vinegar

1/4

cup

granulated sugar or more (to taste)

2

sprigs

fresh summer savory or tarragon (or fresh herb of your choosing)

12

pc.

black peppercorns
Instructions
In a large bowl, combine the water and salt, and stir to dissolve the salt. Prick the bottom of each tomato once with a clean needle. Place the tomatoes in the salt brine, cover and marinate for 24 hours at room temperature.

In a large saucepan, combine the vinegar and sugar.

Stir to dissolve the sugar. Bring just to a boil over high heat. Remove from the heat and cool thorough

Remove the tomatoes from the salt brine and drain thoroughly. Discard the salt brine.

Carefully place the tomatoes in a 1-quart canning jar. Arrange the herbs and peppercorns around the edges of the jar.

Pour the vinegar-sugar mixture over the tomatoes. Secure the jar tightly. Process for 15 minutes in boiling water bath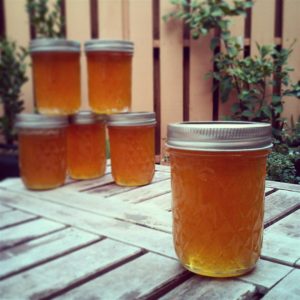 Pear Honey
Ingredients
8

cups

pears, sliced

2

cups

crushed pineapple

5

cups

sugar

1

pc.

lemon, juiced and rind grated

1

teaspoon

ground ginger
Instructions
Wash, pare, and core ripened pears. Slice and measure.

Put the pears through a food chopper using a fine blade or a blender.

Add pears to stainless steel pot. Add remaining ingredients to the pears.

Cook over slow heat,  stirring frequently for 20 minutes, or until desired consistency.

Pack into hot sterilized jars leaving 1/4" headspace, remove air bubbles, wipe rims, add hot lids/rings.

Process in water bath canner for 10 minutes once the water has returned to a full rolling boil.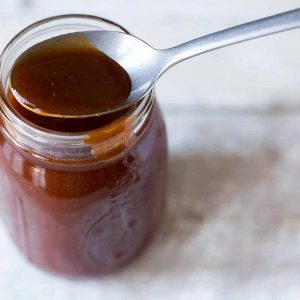 Summer Sizzle Barbecue Sauce
Summer Sizzle Barbecue Sauce ( Small Batch Canning)
Ingredients
2

T.

Canola oil

2

pc.

medium onions, chopped

2

pc.

large cloves garlic, minced

4

pc.

large tomatoes, peeled and finely chopped

1/2

cup

dry red wine or beef broth

3

T.

liquid honey

1

T.

each Worcestershire sauce and cider vinegar

1

t.

each dry mustard and green peppercorns

1/2

t.

each chili powder and salt

1/2

cup

tomato sauce

1

t.

brown sugar

1/2

t.

hot pepper sauce
Instructions
Heat oil in a medium stainless steel saucepan over medium high heat.

Add onions and garlic and sauté for 5 minutes or until tender, stirring frequently.

Add tomatoes, wine, honey, Worcestershire sauce, vinegar, mustard, peppercorns, chili powder and salt.

Bring to boil, reduce heat and boil gently, uncovered for 30 minutes or until thickened. Remove from heat and puree in a food processor or blend till smooth.

Stir in tomato sauce, sugar and pepper sauce, return to saucepan and bring to a boil.

Fill jars leaving ½ inch headspace. Process in water bath for 20 minutes. Makes about 3 cups.