We are coming upon Pear season again and a few years ago Renee shared with me a Pear Cranberry Pie Filling that I tried and it was amazingly delicious. Deborah decided to ditch the cranberries and do a pure pear filling with the warmth of a fews spices; cinnamon and nutmeg. The pairing of these spices brings out the subtle flavors of the pears to make the perfect fruit pie.
Thank you Deborah for sharing your variation and your photographs of your processed jars.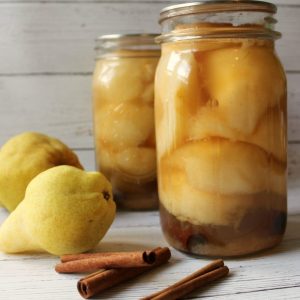 Pear Pie Filling
Ingredients
24

cups

sliced pears

5 1/2

cups

sugar

1 1/2

cup

Clear Jel®  

2 1/2

cup

cold water 

5

cup

apple juice (pear or whitegrape could also be used)

3/4

cup

bottled lemon juice

1

T.

cinnamon

3/4

t.

nutmeg
Instructions
Preparation:
Wash, peel, and corepears. Prepare slices 1/2-inch wide and place in water containing ascorbic acidto prevent browning. Boil water and add each batch of pears for 1 minute afterthe water returns to a boil. Drain but keep heated fruit in a covered bowl orpot.
Cooking:
Combine sugar, Clear Jel®and spice in a large kettle with water and apple juice. Stir with whisk andcook on medium high heat until mixture thickens and begins to bubble.

Add lemonjuice and boil 1 minute, stirring constantly. Remove from heat. Fold in drainedpears slices and immediately fill hot jars with mixture.
Filling: Note:
It works really well if you add some to the jar through yourfunnel and using your plastic spatula to push down the filling and remove airbubbles as you go up the jar with each scoop. Fill to 1 ½" headspace. Adjustheadspace if needed. Wipe rims of jar with a dampened clean paper towel. Adjustlid and process immediately.
Processing:
Process in a water bathcanner for 25 minutes at a full rolling boil. Wait 5 minutes, remove and placeon dishtowel overnight undisturbed.

The next day remove rings and clean jars andlabel with recipe name and date. Store in a cool, dry, and dark place. This recipe will make 6 - 7 quarts.