Inspiration is one of the best gifts that my Facebook friends have given me. Renee, a great lady who in her own life has some food challenges gave me an idea for making a pie filling that was out of the ordinary.  Renee doesn't eat apples and cinnamon so the traditional pie filling was out for her to can, but pears are great. A combination that worked for her was Pears and since cranberries have been the height of conversation, we all said go for it!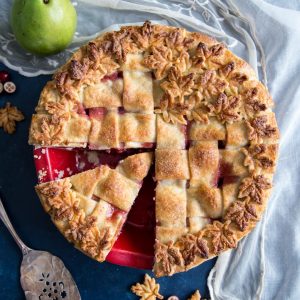 Pear Cranberry Pie Filling
Here is the pie filling that I did inspired by my new friend Renee! 
Ingredients
2

lbs

pears (6 cups sliced)

2

cups

fresh cranberries

1 1/2

cups

sugar

1/2

cup

Clear Jel®  

1

cup

cold water

1 1/2

cup

apple juice (pear or white grape could also be used)

4

T.

bottled lemon juice

1/4

t.

Nutmeg or Allspice
Instructions
Wash, peel, and core pears. Prepare slices 1/2-inch wide and place in water containing ascorbic acid to prevent browning. Boil water and add each batch of pears then cranberries for 1 minute after the water returns to a boil.

Drain but keep heated fruit in a covered bowl or pot. Combine sugar, Clear Jel® and spice in a large kettle with water and apple juice. Stir and cook on medium high heat until mixture thickens and begins to bubble.

Add lemon juice and boil 1 minute, stirring constantly. Fold in drained pears slices and cranberries immediately and fill hot jar with mixture without delay, leaving 1 1/2 inch headspace.

Remove air bubbles and adjust headspace if needed. Wipe rims of jar with a dampened clean paper towel. Adjust lid and process immediately.

Process in water bath for 25 minutes at a full boil.

Donna did a variation on this recipe by substituting raisins for the cranberries to create a Pear Raisin Pie filling. I think it turned out fantastic!