I have to admit I missed the cranberries since last years cranberry extravaganza. They are so versatile and there were fruits that I wanted to pare with them, but they were out of season by the time cranberries came in season. I have been saving a few choice fruits in my freezer from the spring/summer crop and will be working on some new jam flavors over the holidays. But for now I am excited to get the first pot of cranberries on the stove.
I had some fuji apples and I wanted to get a first run jam on the stove with the cranberries so I put together these great flavors and made a Cranapple Cinnamon jam.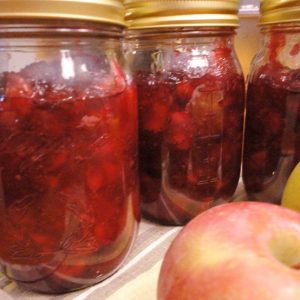 Cranapple Cinnamon jam
Ingredients
2

cups

fresh cranberries

2

cups

chopped apples

2

cups

apple juice or water

2

3"

cinnamon sticks

2

T.

bottled lemon juice

1 1/2

cup

sugar

2

T.

Ball flex batch low sugar no sugar pectin
Instructions
Prepare 4 half pint jars, lids, and rings.

In a stainless steel pot combine cranberries, apples, and juice/water. Bring to a boil stirring occasionally.

Once at a boil reduce heat and cook for 20 minutes until cranberries start popping and apples are becoming soft. Add cinnamon sticks and cook an additional 15 minutes stirring occasionally at a simmer. Add sugar and bottled lemon juice to the mixture and bring back to a boil.

Remove cinnamon sticks.  Add pectin and boil for an additional minute without stirring. Turn off heat and remove from flame. Stir recipe and it should be thicker than before.

Ladle into your sterilized jars and fill to 1/4" headspace. Remove air bubbles and refill to proper headspace if needed.

Wipe rims, add hot lids and rings and place jars in water bath canner. Process jars in canner for 10 minutes once the water come back to a full rolling boil.

Remove jars and let cool on the counter overnight. The next day label top of lid with "Cranapple Cinnamon Jam" and the date canned. Remove the ring for long term storage.