Misty, my good friend, is always posting stuff to her timeline and making me laugh. I did get a glimpse yesterday of a post that looked rather delictable and it was using pie filling. I was intrigued since we make so much of the stuff on this page it would be great to have another use for it.
This recipe came from a site called ohbiteit.com. The writer used canned pie filling like Comstock and though it looked good I knew that homemade pie filling would be infinitely better. It's a very simple recipe with basically three ingredients; 1) 1 quart of your homemade pie filling, 2 – 9″ pie crusts (preferable homemade or boxed since you have to roll it out. Using the frozen kind already shaped in the pan won't work), and last sugar sprinkles.
My adaptation was obviously my homemade pie filling. I decided to use a pint of my candy apple and a pint of my pineapple coconut pie filling. You need to "chop up" the filling fruit into a smaller size to make these but making it with berry fillings would be fantastic also. My personal note is that it was messy making them but the cookies after cooking are amazing. The Clear Jel set up perfectly and the round beauties are so delish it's like a little slice of pie.. Really!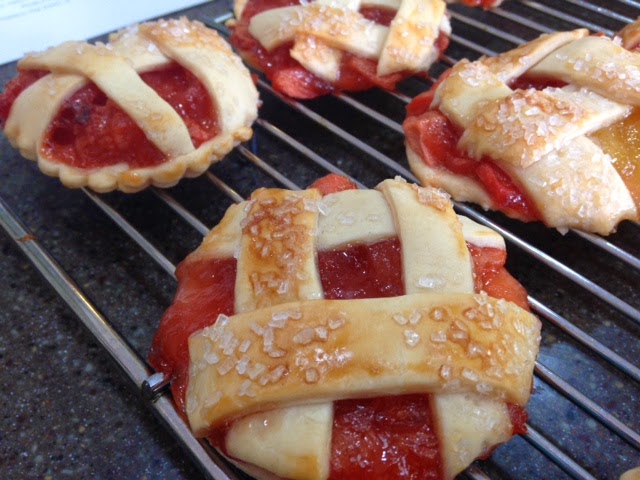 Pie Filling Cookies
Ingredients
1

quart

pie filling any flavor; I used a pint of candy apple and pineapple coconut

1

cup

sparkle decorator sugar. (you can use regular sugar too)

1

egg

well beaten for egg wash

 A dusting of flour to slightly roll out the dough and 3" round cookie cutter
Instructions
Directions:
Unroll both crusts andspread one of them with the pie filling. 

Roll out the second crust and cut out 18 strips which you will use for the lattice. (Mine weren't perfect but it turned out yummy)

Place 9 of the strips onto the Pie Filling and peel back every otherstrip doing the lattice weave. Repeat with the other nine to make a latticetop

Brush the lattice topped crust with some egg wash and a generous sprinkling of sugar  (I didn't use the whole cup since the filling isdefinitely sweet enough)

Cut them out with your cookie cutter or any cutter youhave will work. I did mine with a 2 1/2" since that is all Ihad. 

Using a spatula to transfer them, place them gently ontoa sheet pan. This is the messy part. I lightly floured the spatula so theywould slid off easier.

Bake them at 350 degrees for approx, 12 minutes. (I didthem for 25 minutes to get them golden brown on top and on the bottom. Theywere not done after 12 minutes!)

Let them cool and watch them disappear!