After two crazy days of volunteering at the California Wine Festival I got back to what I love best. I set up the kitchen the way I usually do, water canner full plus two tablespoons of vinegar, jars at the ready, tools at my grasp, and ingredients and cookbook on the island open for the first recipe of the day. The canning group was coming and was very excited to get started with the work.
Our recipes today included figs and 10 beautiful pickling cucumbers that I harvested this morning. I wanted to share in the produce since I have made at least a dozen jars of various pickles this last month.
I was prepared to add a bit of lemon zest to the figs and the usual lemon juice since the figs are low acid, but after putting in two cups of sugar and the batch was now too sweet, we had to correct the flavor. Chona had brought plums to share from her tree and we knew that not only would it give the figs in the pot a bright note of flavor but the purple flesh of the plums would change the color from a dull brown to a vibrant purple. It was the perfect idea and the recipe was saved! Here is out Fig-Plum Jam.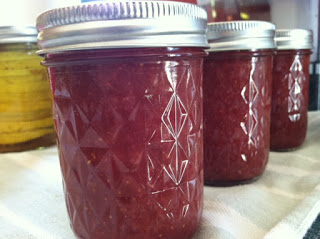 Fig-Plum Jam
The first recipe started out as a regular fig jam.
Ingredients
4

cups

fresh figs, ends cut off and quartered

1

cup

purple flesh plums, pitted and chopped (6 small)

2

cups

sugar

4

T.

bottled lemon juice

1

pc.

Zest of one lemon
Instructions
In a bowl add figs and 1 cups of sugar. Put into the refrigerator for at least an hour or overnight.

In a stainless steel or enamel dutch oven, on medium high heat, empty figs and sugar scraping from bowl and cook figs until they are soft. Cook stirring occasionally for 25 minutes.

With either an immersion blender or potato masher break up and mash figs leaving small pieces of the fruit throughout.

Add lemon zest, lemon juice and additional cup of sugar. Mix into figs.

Add cup of plums and cook for additional 15 minutes. Bring the recipe back to a boil, then turn off heat.

Ladle fig mixture into half pint jars, wipe rims carefully, add hot lids/rings and process in a water bath for 10 minutes at a full boil.
Our second recipe was an array of Bread & Butter Pickling. We used the basic recipe from my previous Bread & Butter pickle brine and did a batch of pickling cucumbers and some just picked yellow summer squash. The squash and cucumbers were salted for an hour to release any water then rinsed to get most of the salt off of the produce. Here are the jars. You can click this link to get the recipe for Bread and Butter Pickles.
The last recipe was on a whim. I was explaining that I had concerns about the safety of the recipe since it contained 9 oz of white baking chocolate with cocoa butter. I had told them that Ball had a recipe for a Chocolate Raspberry sundae topping that others had raved about but that I had never tried.
Before I could say anything more I thought I would check my spice pantry since I knew that the main ingredient other than Raspberries (my special fruit) was Cocoa powder.  I had enough to make half the recipe and as soon as the words came from my lips we were checking that we had the rest of the ingredients and digging in.
The recipe is perfect for our group. We have fruit and chocolate lovers but the combination of the raspberries and chocolate were divine. It has a thick consistency since there is pectin added.  I hope that you enjoy this lovely little recipe and let me know how you use it.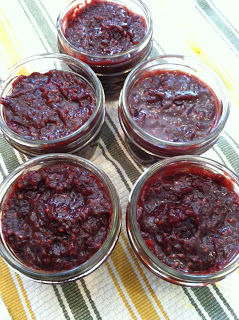 Chocolate Raspberry Sundae Topper
We were talking about the Better Homes and Garden Canning magazine and specifically the White Chocolate and Raspberry Spread recipe on page 45.
Ingredients
1/2

cup

sifted unsweetened cocoa powder

*1

1.75oz pkg

Ball Original Fruit Pectin

4-1/2

cups

crushed red raspberries

*6-3/4

cups

granulated sugar

4

Tbsp.

lemon juice
Instructions
(*If you used Ball flex batch low sugar/no sugar pectin you can reduce the sugar significantly. Make sure to taste the recipe after the first cup of sugar and increase by ½ cups until the flavor is sweet enough)

Makes about 6 (8 oz) half pints – also fantastic to put into 4 oz jars for gifts! Include items like dipping pretzels or gift certificate for favorite frozen yogurt shop!
Directions:
Prepare boiling water canner. Heat jars and lids in simmering water until ready for use. Do not boil. Set bands aside.

Combine Cocoa powder and pectin in a medium glass bowl, stirring until evenly blended. Set aside.

Combine crushed raspberries and lemon juice in a large stainless steel saucepan. Whisk in pectin mixture until dissolved. Bring to a boil over high heat, stirring frequently.

Add sugar all at once (taste if you are using the low sugar method but do not boil till you have correct sugar ratio) and return to a full rolling boil, stirring constantly.

Boil hard for 1 minute, stirring constantly. Remove from heat and skim off foam.

Ladle hot sundae topper into hot jars leaving 1/4 inch headspace. Remove air bubbles. Wipe rim. Center lid on jar.

Apply band until fit is fingertip tight. Process jars in a boiling water canner for 10 minutes, adjusting for altitude. Remove jars and cool.

Check lids for seal after 24 hours. Lid should not flex up and down when center is pressed.