Probably not unlike most addicted canners like myself your ability to imagine what you can put into a jar keeps you up some nights. I had one such night a few months ago and wanted to work on another combination ice cream/yogurt topping and something that you could use as a base for a tart that was different than a custard.
Pineapple and Coconut are two flavors that I love together. The ability to bring these two perfectly paired tropical powerhouses together as a filling was genius! I know it's probably been done somewhere else on the web, but I am doing it here, my way! Also if you need Clear Jel you can find it at the SB Canning Store Non-GMO and Gluten Free here!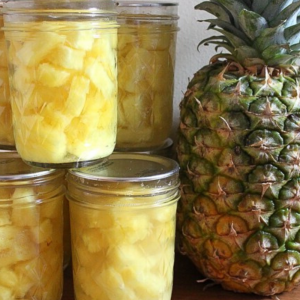 Tropical Topper or Tart filling
Tropical Topper or Tart filling
Ingredients
3

cups

chunked fresh pineapple

3/4

cups

shredded coconut

1

cup

sugar

1/4+1

cup+tbsp

Clear Jel

2

cups

Orange Juice
Instructions
Preparation:
Cut, core, and cube a fresh pineapple. Make sure to remove any of the core and the eyes.
Cooking:
Combine orange juice, sugar, and Clear Jel in a large stainless steel pot. Stir and cook over medium high heat until mixture thickens and begins to bubble.

To keep a smooth consistency use a wire whisk if available. Boil sauce 1 minute stirring constantly. Remove from heat. 
Filling and Processing:
Fold in coconut and pineapple chunks. Fill hot jar (or two pints) without delay, leaving 1-inch headspace. Remove air bubbles and adjust headspace if needed.

Wipe rims of jars with a dampened clean paper towel. Adjust lids and process immediately. Process in a water bath canner for 20 minutes at a full rolling boil.

Note you will have some expansion in the jars because of the Clear Jel. Make sure to measure the 1" headspace! Also you could use pineapple juice instead of orange juice. Also if you need Clear Jel you can find it at the SB Canning Store here!