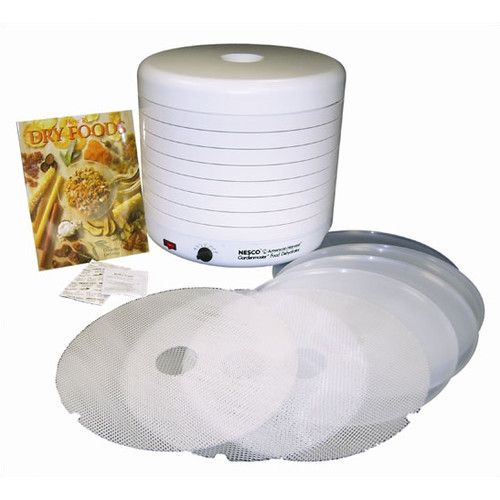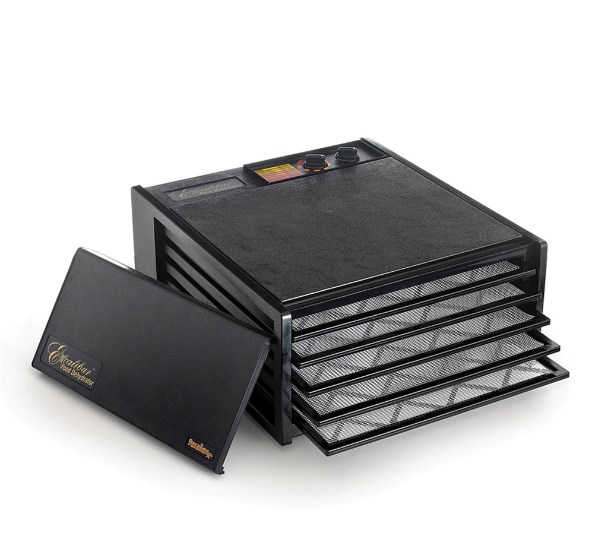 So I decided to put together a list of recommended Nesco and Excalibur dehydrators so that you would have the comparisons also handy. If you are looking to purchase a new one here are some things you might want to consider.
1. How many people in your household? If you have a lot of people to feed and want to do a lot of dehydrating you might want to consider one that has the ability to expand more racks or in the case of the Excaliburs the drying space for the 9 tray is fairly large. (~15 sq ft) If you only have a few people but still have a hefty garden and want to do both drying and canning these more expandable models would be a great choice.
On the other hand if you have a small family and think this machine will be for the occasional drying and using for some of the garden the Snackmaster's and the Square Nesco are perfectly adequate. Also they are great machines with smaller physical size. If you want to go with Excalibur the 4 or 5 tray will be a good size (4 sq ft and 8 sq ft) as you can take trays out if you like and not use all of them in a drying cycle.
2. What do you want to make? Is this part of a lifestyle change? Healthier food and snacks? If you are using this as a way to preserve and believe you will be working the machines fairly consistently they are all built for that but many have a faster processing time because of their power. The Nesco 1018P and 1040 have strong motors that will dry foods very quickly so you can be loading them up more often. That also holds true for the Excalibur 9 Tray which again has a lot of drying space and the drying system requires a lower wattage naturally.
3. Are you concerned you might overprocess since you aren't home all day? The answer for you may be the three models that timers for shut off built in. The Nesco 1040 and two of the Excalibur's – 5 tray and 9 tray have timers that can be programed and set for length of drying.
All of the dehydrators below have the ability to do fruit rollups and dry herbs as well. Some come with the rollup tray and other are available for sale. Here is the link to fruit roll up trays, as well as, expansion trays for the different Nesco models.
The one difference so far that I have found is that Excalibur because of it's box drying technology has developed recipes that you can do, such as yogurt, which the dehydrator now acts like a low heat oven. That may be something that you want to consider.
The prices listed below are average prices and I try often to let you know when machines are on sale. If you click the link "X" it will take you to my Amazon store or directly to Amazon for you to see the current price.
I hope this helps in your ability to choose the machine that will fit your needs.
Dehydrator Model
Watts
of Power
Racks
Expand to
Fruit 
Roll ups
Price  
Link 
Nesco Dehydrators
Nesco 60 – Snackmaster
500
4
12
1 inc
~$70
X
Nesco 75 PR – Snackmaster Pro
600
5
12
1 inc
~$70
X
Nesco FD 80 – American
Harvest Square
700
4
8
avail
for sale
~$69
X
Nesco 1018P – American Harvest
1000
8
30
8 inc
~$144
X
Nesco 1040  – Gardenmaster (has a timer)
1000
4
20
1 inc
~$135
X
Excalibur  Dehydrators
Excalibur 2400 -4 Tray Economy
220
4
n/a
avail
for sale
~$115
X
Excalibur 3500B – 5 Tray Deluxe
440
5
n/a
avail
for sale
~$190
X
Excalibur 3900B – 9 Tray Deluxe
600
9
n/a
avail
for sale
~$205
x
Excalibur 3526TB – 5 Tray
with Timer
400
5
n/a
avail
for sale
~$178
x
Excalibur 3926TB – 9 Tray
with Timer
440
9
n/a
avail
for sale
~$230
X