I also have been swayed over the last few years by the freshness and taste of good dried herbs and spices. I switched over to Penzey's for all my pantry needs about two years ago and try very hard to not buy from grocery stores. My lesson was going to a Penzey's retail store and smelling the spices as they should smell rather than jars that have been on the shelves for some long period of time which is usually what you get from grocery store. They have a great and convenient website which not only describes the spices but also tells you what spices or herbs are in their blends. They have about four different cinnamon's which for me is really cool when  I am baking or creating new flavors. Here is their website http://www.penzeys.com/ .
Back to cooking/canning….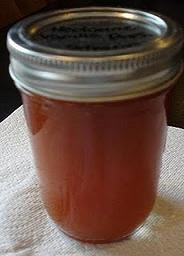 Basic Nectarine Preserve
Here is the recipe I used to make my Nectarines into a wonderfully rich preserve.
Ingredients
2

pounds

large ripe nectarines

2

cups

granulated sugar

1/2

cup

water

1/2

tablespoons

lemon juice (I used bottled)
Instructions
Use basic recipe above but add 1/8 teaspoon of vanilla extract ( I used vanilla paste from William Sonoma)

Peel and seed nectarines, and cut into large chunks. Add to a large pot with sugar and water and boil for 30-40 minutes, until the fruit is nice and soft.

Stir in vanilla, lemon juice, and mix well. Continue to cook to 220º using a candy thermometer and check for gel point.

Place in sterilized jars and process