My mom called me a few weeks ago raving, I mean going on and on, about how much she loved the Strawberry Champagne Jam that I made. She finally got to her little 4 oz jar and had to call me from work. I tried to understand what she loved about it and she said it was the consistency and that she could really taste the champagne. I love it when she is that crazy over something that I make.
I still have some peaches from Barbara, who is one of the ladies that attended my demonstration at Whole Foods. She rang me up to see if I wanted to take some peaches off her hands so the birds wouldn't eat them. Some of the peaches were ready this last weekend and I made a Peach Pie jam and brought her half the jars. The other half  of these fuzzy beauties were ready last night. I decided to marry mom's love of the champagne with another of mom's favorites, peaches. It also turns out after I delivered the two jars of jam to Barbara this morning she was so excited since today is her Birthday! I didn't even know! Happy Birthday Barbara!
I added the dry brut champagne just at the end before the pectin so that flavor of the bubbly was present and bright. I don't know but I think this one could top the strawberries. Enjoy!
Mom a 4 oz jar is on it's way next week along with a few others I have cooked up. Love you!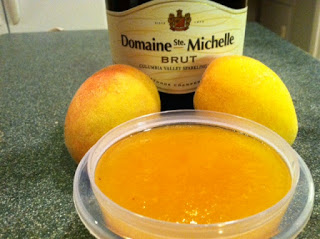 Peach champagne jam
The result is a jam that has a velvety consistency since I used the immersion blender.
Ingredients
4

cups

peaches, peeled, pitted, and sliced

1 1/2

cups

sugar

3

T.

Ball flex batch powdered pectin

2

T.

bottled lemon juice

1

cup

champagne (I used brut)
Instructions
Prepare four half pint jars by sterilizing.

Add sliced peaches to stainless steel or enamel cast iron pot. Cook on low stirring occasionally for about 20 minutes.

Using an immersion blender or potato masher crush the peaches till the recipe is smooth. Add the sugar and lemon juice.

Bring the temperature to medium, stirring constantly to bring the mixture slowly to a boil.

Note: The jam with splatter like a volcano erupting so where an apron.

Once at a boil add champagne and stir for about one minute then add the pectin.

Bring mixture back to a boil which will happen quickly and keep at a boil for one minute continuing to stir. Remove from heat.

Immediately ladle peach jam into jars leaving 1/4" headspace. Wipe rims and add hot lids/rings and process in water bath for 10 minutes at a full rolling boil.