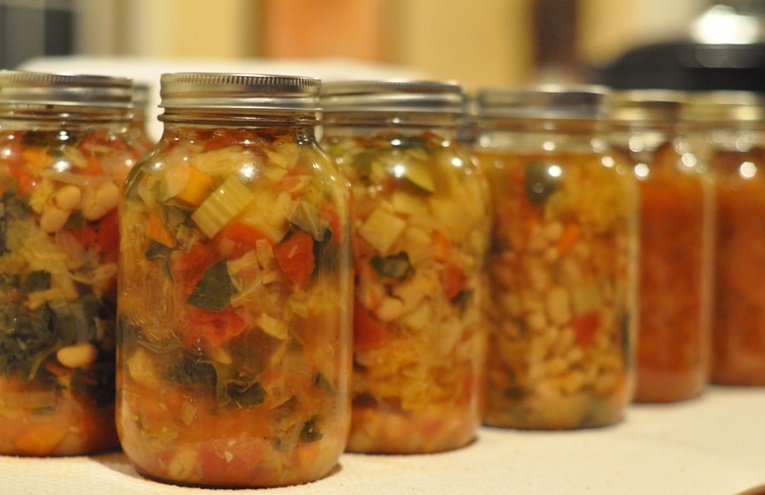 As a good housekeeper we always want to give our family the best of all the things. When it comes to eating healthy, best is to find the organic food or non adulterated food which everyone enjoys. Often in winters soups are the most liked by all but buying it from outside can add to the expenses. Therefore homemade canning of soup can be a very good idea which not only saves you money but also the time when you want things to be made instantly.
There are safety points that you should keep in mind when canning soup. First and the foremost are to ensure that the canner should be pressure canner. The main reason behind using the pressure canner is to ensure that food born bacteria do not spoil the soup. Since majority of soup ingredients used are low acid ingredients therefore in order for it to last longer pressure canner are just perfect.
Secondly when canning soup, it is only safe to can clear soup. Ingredients such as thickeners, oils, milk, noodles should not be used. Preserving the soup in pressure containers is the most efficient way of storing it for several months without the need of refrigeration.
There are many reason why canning is becoming so popular in today's modern times.
Preserving own crop: Many of us believe in having our own kitchen garden to enjoy more healthy organic food. Once you have the crop ready, storing it the right way to enjoy it during the off season becomes important. Canning is the best way to preserving your own grown crops.
Standard Of Living: Recession has hit us all worldwide. With job crunches and grocery prices increasing, many are looking for alternate solutions to save our grocery bills. The canning products can be bought on sales which if compared to buying store products can be less cheap and save you money.
Nutritional value: If you do homemade canning you can be sure that your family is having a meal which is rich in all nutrients and is safe. You can avoid acids, hormones, chemicals etc which is used by manufacturers in fruits, vegetable and other food products.
Food Allergies: You can stash your own meals and avoid any food allergies. It also saves your cooking time. Knowing what you are eating will help in having a better control over the food allergies.
Satisfaction: Canning on your own gives you a personal satisfaction that you and your family are eating a healthy food.
Canning soup to enjoy your grandma's secret canning recipes soup anytime you wish will make your life much easier. But make sure that you read through the USDA guidelines regarding the various instructions related to homemade canning. Although canning process can be a bit time consuming but in once done it will save you lot of money and time in future and on top of all that you can be sure that you are eating healthy diet.