It's good to add more canning recipes for pie filling to my site since "variety is the spice of life". Kelly posted a great picture of strawberry and blueberry pie filling and realized that I posted the recipe but never did a post with a picture of the strawberry pie filling.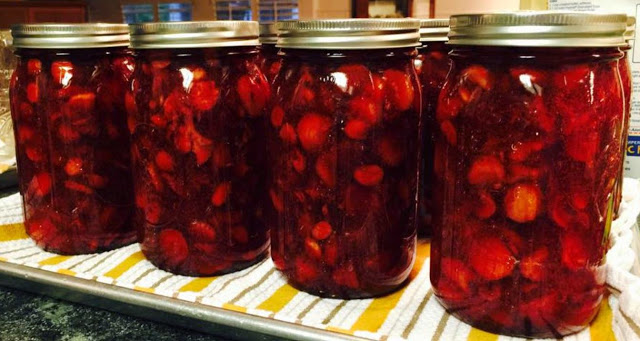 Strawberry Pie Filling
Here it is hoping that now in July some of you have strawberries maybe left to can!
Ingredients
1 Quart
3-1/2

cups

Strawberries Fresh or thawed

3/4+2

cup+tbsp

Granulated sugar

1/4+1

cup+tbsp

Clear Jel®

1

cup

Cold water

3-1/2

teaspoons

Bottled Lemon Juice
7 Quart
6

quarts

Strawberries Fresh or thawed

6

cups

Granulated sugar

2-1/4

cups

Clear Jel®

7

cups

Cold water

1/2

cup

Bottled Lemon Juice
Instructions
Wash Strawberries well and drain fruit in a covered bowl or pot. Combine sugar and Clear Jel® in a large kettle. Stir. Add water.  

Cook on medium high heat until mixture thickens and begins to bubble. Whisk to a smooth consistency.  

Add lemon juice and boil 1 minute, stirring constantly. Fold in drained berries immediately and fill quart jars with mixture without delay, leaving 1 1/2 inch headspace. Remove air bubbles, refill if necessary.

Wipe rims, add hot lids/rings and process in water bath for 30 minutes at a full rolling boil.