I love this recipe since at the beginning of the instructions from the BHG Can It! book it tells you how to make a great vinaigrette using this recipe once it's canned. I will post the vinaigrette at the bottom.Technically this is not really a conserve as they normally have some kind of nuts. You could add 1/2 cup of walnuts, pecan, or almonds to the recipe at the end just before you ladle them in to the jars.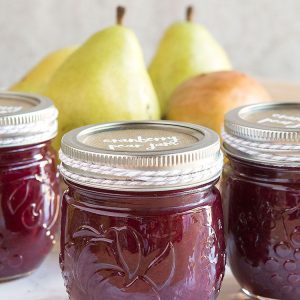 Canning Pear and Cranberry
Thank you to Whitney for sharing her fantastic jar she made for the recipe!
Ingredients
3

pc.

medium beets (1 lb)

1

pc.

large onion, finely chopped

2

pc.

sweet red peppers, finely chopped

1

cup

white vinegar

1/2

c

granulated sugar

1

tsp

pickling salt

2/3

cup

grated fresh horseradish
Instructions
Cook beets in boiling water until tender, about 20 minutes. Drain beets, remove skins and chop finely. There should be about 2 cups. Mix beets with onions and peppers.

Combine vinegar, sugar, salt, and horseradish in a large stainless steel or enamel saucepan. Bring to a boil over high heat. Add vegetables. Return to a boil, reduce heat and simmer, uncovered, for 20 minutes, stirring occasionally.

Fill hot, sterilized jars to 1/2 inch headspace. Remove air bubbles, adjust headspace. Wipe rims with a towel dipped in hot water, place hot lids on jars, add ring adjusting to finger tightness. Process in a boiling water bath 15 minutes for half pints and 20 minutes for pints.

NOTES: The recipe says you can use a 14 oz can of beets in place of the fresh ones.  Also, you can use commercially prepared horseradish in pace of the fresh, just double the amount.