Audrey grew an incredible batch of watermelon radishes. These radishes are a fuchsia color on the inside and more of a lime green on the outside. They grow just like regular radishes. Audrey wanted to put up these radishes and I found a great recipe for Pickled Honey Radishes and she found a Radish Relish from the Put Em Up canning cookbook. I have done just the basic Pickled Radishes and they were fantastic. I'm very excited to put together these recipes using these exact type of radishes.
From Audrey: This is the first time I've grown watermelon radishes and they are so much fun! I love the pale green outside against the bright pink inside.
They taste like regular radishes with a little extra spicy.
Here is my batch tonight 4 lbs. Honey pickled radishes and radish relish. Tasted both and the honey one is sweet and takes the intense pepper away but it still has a little kick.
Also both jars look the same color but the relish used red wine vinegar to give it that color and the honey is what gives the others that color. I think if you use white radishes it would of been more golden in color.
(Can It! Better Homes and Gardens)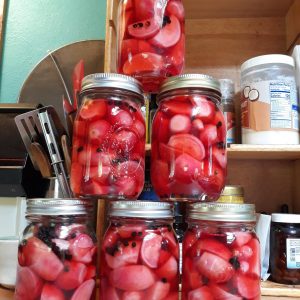 Pickled Honey Radishes
Ingredients
2

pounds

radishes, tops and roots removed

2 1/2

cups

water

2

T.

salt

1 1/2

cup

water1 1/4 white vinegar

3/4

cup

honey

1/4

cup

red wine vinegar

2

T.

mixed peppercorns
Instructions
Cut each radish into halves or quarters.

In a large stainless steel or glass bowl combine 2 1/2 cups water and the kosher salt. Add radishes.

Cover and refrigerate for 1 to 2 hours

Drain and rinse radishes, set aside. In a medium saucepan combine 1 1/2 cups water, white vinegar, honey,red wine vinegar, and peppercorns.

Bring to boiling, stirring occasionally. Reduce heat, cover, and simmer for 15 minutes.

Pack radishes into hot, sterilized half pint jars, leaving a 1/4 inch headspace.

Ladle hot vinegar mixture into jars, being sure to get some peppercorns into each jar and maintaining the 1/4 inch headspace. Discard any remaining vinegar mixture.

Wipe jar rims, adjust lids Process filled jars in a boiling water canner for 10 mintues. Makes 6 half pints.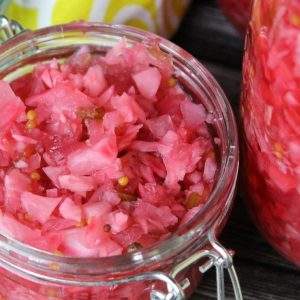 Radish Relish
Ingredients
2

pounds

radishes, shredded

1

cup

diced onion

1

2-inch

ginger, peeled and grated

2

cloves

garlic, minced

2

cups

distilled white vinegar

1 1/2

cups

sugar

1

Tbs.

kosher salt

1

Tbs.

whole coriander (you can use ground)

1

Tbs.

cumin seed

1

Tbs.

yellow mustard seed
Instructions
Shred radishes, chop onions, grate ginger, and mince the garlic.

Combine vinegar, sugar, salt, coriander, cumin seed, and mustard seed in a large stainless steel or enameled dutch oven  and bring to a boil.

Add the radishes, onion, ginger, and garlic.  Return to a boil, stirring till all ingredients are heated through.  Remove from heat.

Ladle relish into 4 hot half pint jars filling to 1/4 " of headspace between the top of the liquid and the lid.  Remove air with plastic spatula and refill to 1/4 " if necessary.

Wipe the rims with a wet papertowel, add hot lids and rings. Process in water bath for 15 minutes, adjust for altitude.  
From Audrey: I have to say that's its pretty amazing! It has mustard seeds in it and it gives everything a punch of flavor. I really enjoyed both recipes.