Today I was on a frenzy to get as much canned as possible before I have to go out of town on Thursday. I had some batches and recipes that I didn't get to this weekend because of the Earth Day celebration. I finished Strawberries in Light Syrup, Pickled Radishes, Lavender Jelly, and lastly I received some more Rhubarb from my friend Mardena and new that I wanted to try the Grapefruit Rhubarb Marmalade that I posted from Canadian Living on Facebook.
I followed the instructions to the letter and had hoped that the color would be as bright and sunny as the one in their picture, but even before I started I found it difficult to image that since Rhubarb was red and the grapefruit was pink, one would think the final product would be a combination of the two. I will take a few jars over to Mardena for this great gift. Here is the recipe.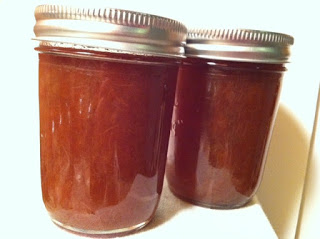 Rhubarb Grapefruit Marmalade
Well mine came out just I thought,dark, but the taste is really fantastic.
Ingredients
3

pc.

red grapefruit (unpeeled), (I used pink)

1

pc.

lemon

6

cups

sugar

4

cups

sliced fresh rhubarb
Instructions
Scrub grapefruit; cut out stem and blossom ends and any blemishes. Cut in half crosswise. With citrus juicer, squeeze out juice of grapefruits and lemon, dislodging seeds. Strain through sieve into bowl; set juice aside. Remove membranes and set aside.

Place seeds and any membranes on 8-inch square double-thickness fine cheesecloth. Bring up sides; tie top with string, enclosing seeds loosely. Place in large heavy saucepan. Pour in juice.

On cutting board, stack grapefruit skins. Cut into 3 parallel strips; cut away excess white pith from strips. Cut crosswise into slightly less than 1/4-inch thick strips. Add to pan.

Add 5 cups water to pan; bring to simmer over medium heat. Reduce heat, cover and simmer gently, stirring often, for about 2-1/2 hours or until peel turns to mush when pressed between fingers.

Remove seed bag and let cool; squeeze juice from bag into pan. Mixture should measure 5 cups. If more, uncover and simmer longer; if less, add water.

In clean Dutch oven, stir together grapefruit mixture, sugar and rhubarb; bring to boil over high heat, stirring constantly.

Boil vigorously, stirring constantly, until setting point is reached, about 20 minutes. To test, remove from heat. Drop 1 tsp mixture onto 1 chilled plate; freeze for 1 minute.

Remove from freezer. Surface should wrinkle when edge is pushed with finger. If too liquid, return to heat and repeat test every few minutes with chilled plate. Skim off foam.

Pour into prepared half pint canning jars, leaving 1/4-inch headspace. Seal with prepared discs and bands. Boil in boiling water canner for 10 minutes.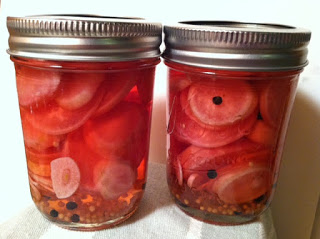 Pickled Radishes
Here is the simple recipe. 
Ingredients
1

bunch

red radishes (about 10-12)

1/2

cup

cider vinegar1/4 cup sugar

1/4

cup

water

2

t.

kosher salt

1/2

t.

yellow mustard seed (you can use brown mustard seed if you want them spicier)

1/8

t.

whole coriander

1/4

t.

black peppercorns

1

clove

garlic - sliced
Instructions
Slice radishes and set aside. In a dutch oven combine vinegar, sugar, water, and salt. Cook until the mixture simmers with bubbles around the edge and the sugar is dissolved. In a sterilized pint size jar put in the radishes, spices, and garlic. Leave a 1/2" headspace.

Pour the hot brine into the jar, remove the air with your rubber spatula, and add more liquid to measure to the 1/2" headspace.

Put on the lids and rings, tighten finger tight. Process in a water bath for 15 minutes. You will want to wait for about 10 days to two weeks for these to really get to the best flavor. Enjoy!
Notes
My second recipe was Pickled Radishes which someone had asked on facebook if you could can them. I found this recipe and it was super simple. Because radishes are very crisp as a vegetable they were perfect to pickle. I used a mix color bunch of radishes, but ultimately the color became pink from the skin of the red and purple ones.