I was having "canners" block after seeing how many jars I have  done and how many are currently in the pantry.  Almost two seasons of canning and posting a lot of recipes has been so rewarding. I want to still have some creativity with safe recipes and found that pepper jelly is kind of boring when I want something with more than a "hot" flavor. I found a recipe in Better Homes and Garden for a tomato chutney that I thought looked good but needed to have a bit more heat. Since it used red sweet peppers I knew it would be fine to substitute for jalapenos. I liked the vinegar and sugar combination but I took it a step further and decided it would be perfect as a jam.
Salsa jam is a combination of all the flavors of a chutney with the consistency of a jam. It's colors are visually a "salsa", but the taste has a bit of sweet/savory that is classic in a chutney. I find it really better overall than the classic pepper jelly since the flavor of the tomato add something to the savory element.  Enjoy!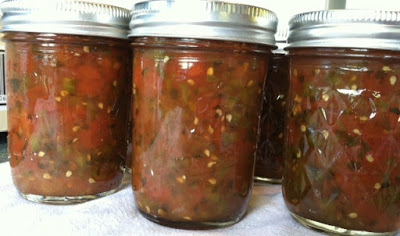 Salsa Jam
The final note is the addition of the pectin to really give it the texture of a true jam.
Ingredients
3

cups

tomatoes, peeled and small chopped

1

cup

jalapenos, seeded and diced

1

cup

red onion, diced

1

cup

cider vinegar

2

T.

cilantro

2

cups

sugar

4

T.

Ball flex batch low sugar/no sugar pectin   *You can use any low sugar/no sugar pectin (Sure-Jell and Pomonas)
Instructions
In a stainless steel pot or enameled dutch oven add the tomatoes, jalapenos, onion, and cider vinegar. Stir together and cook over medium heat. Cook to a simmer, about 15 minutes and add the cilantro and sugar, stirring occasionally.

Cook for another 10 minutes, and bring the recipe to a boil. Add the pectin and bring the recipe back to a boil and set timer for one minute. Remove from heat.

Ladle recipe into 6 half pint jars. Remove air and refill if necessary to 1/4" headspace. Wipe rims and add hot lids/rings and process in water bath for 15 minutes.