One of our favorite restaurants, Pepe's here in Santa Barbara, has some of the best Pork Chili Verde that I have ever had the pleasure of eating. I wanted to do a quick post, no frills, but just some great flavor to put up for my pantry. Here is the recipe from Guy Fieri from Food Network that I adapted to work for pressure canning of this classic mexican delight. If you want it hotter you can add more jalapenos or a hotter pepper like Serrano. This one was plenty spicy enough for me!  Enjoy! (PS..The picture kinda sucks since I forgot rule number three.. remember to put 2 T. of vinegar in the pressure canner water since I have hard water and it will leave a cloudiness to the jar on the outside! Duh! If this happens to you just take some straight vinegar on a papertowel and wipe them down when they are cool enough. I wanted to post this picture so you could see that I'm human too and forget stuff! LOL)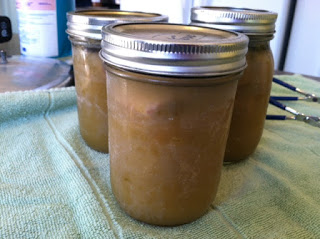 Pork Chili Verde 
Ingredients
4

pounds

pork butt or pork loin, cut into 1-inch cubes, trimmed of fat

4

pc.

small yellow onions, chopped

4

pc.

medium size Anaheim chiles, chopped

2

pc.

jalapeno, minced

4

tablespoons

garlic, chopped

1

pound

tomatillos, husk removed

1/2

cup

white wine

1/4

cup

white vinegar

1

cup

chicken stock

2

tablespoons

ground oregano or cilantro (dried)

2

tablespoons

ground cumin

1

tablespoon

salt

1

tablespoon

ground black pepper
Instructions
Preparation:
Prepare 4-5 pints, lids, and rings. Sterilize the jars and keep them in the hot water till its time for processing. Make sure to fill your pressure canner with the recommended amount of water and bring it to a simmer.
Cooking:
In a medium Dutch oven heat a tablespoon of oil, add the onion, peppers and garlic. Saute until translucent, do not brown. Remove and set mixture aside.

Lightly grill the tomatillos on open flame until lightly charred. Remove from heat, place in bowl. Using a food process or blender, add sauteed peppers and onion and tomatillos and blend till smooth.

Pour into stainless steel saucepan and add the wine, vinegar, and chicken stock and seasoning. Heat till just boiling.
Filling the jars:
On a dishtowel place your hot jars and using your funnel in each jar add cubed raw pork filling about 1/2 to 3/4 full.

Using a ladle then fill the jars with the simmering liquid leaving 1" headspace.   Remove air bubbles and refill to the proper headspace with the liquid if necessary.

Taking a clean paper towel wet it with vinegar and wipe the rims of the jars removing any food particles that would interfere with a good seal.

Using your magic wand extract the lids from the hot water and place them on the now cleaned rims. Add your rings to the tops of each of the jars and turn to seal just "finger tight". 
Processing:
Make sure your rack is on the bottom of the canner and place the jars in the pressure canner.  Lock the lid and turn up the heat bring the canner to a boil.

Vent steam for 10 minutes, then close the vent by adding the weighted gauge or pressure regulator (for dial gauge canner).  Process pints for 75 minutes at 10 lbs of pressure (11 lbs for dial gauge canner) (quarts at 90 minutes).

(Adjust pressure for altitude)  When complete turn off the heat and let pressure return to zero naturally. Wait two minutes longer and open vent. Remove canner lid.

Wait 10 minutes then remove jars and place on dishtowel in a place that they will sit overnight to cool. Do not touch or move them till the next morning.
Sealing:
Some time in the next hour your jars will be making a "pinging" or "popping" noise. That is the glass cooling and the reaction of the lids being sucked into the jar for proper sealing. Some recipes may take overnight to seal. Check your lids and reprocess any jars that did not seal. Remove rings for storage.