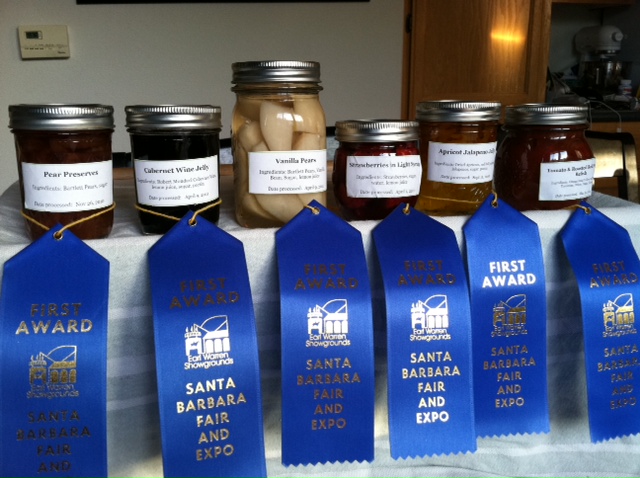 I know that the season for county fairs may be coming to a close for the year but I wanted to reflect on the three that I did this year and what I learned from the judging. Each fair will be different but following the written rules that they supply will give you all the information to have a successful entry.
Choose recipes that you know are tasty. I usually make a test jar or put some in the refrigerator to taste. I make notes about the flavors in my cookbook so if I want to enter the jar later I can refer to my notes.  Choose recipes in "divisions" (jams) and "classes" (peach) that might not be as popular(kiwi). Entering a strawberry jam unless it's fantastic may have a lot of other jars competing for the blue ribbon. I try to keep the recipes original so that the judges get some surprises of flavor!
Use the jar size that is specified for that division. For instance, jams/jellies/preserves are usually entered in half pint size jars. The fair rules tell you the correct size jar that the recipe should be canned in. Some divisions may require that you enter more than one jar of the recipe. One for tasting and the other for display. Check the rules as they will also tell you how many jars. Try to enter only the clear jars. Do not use the quilted jars for competition.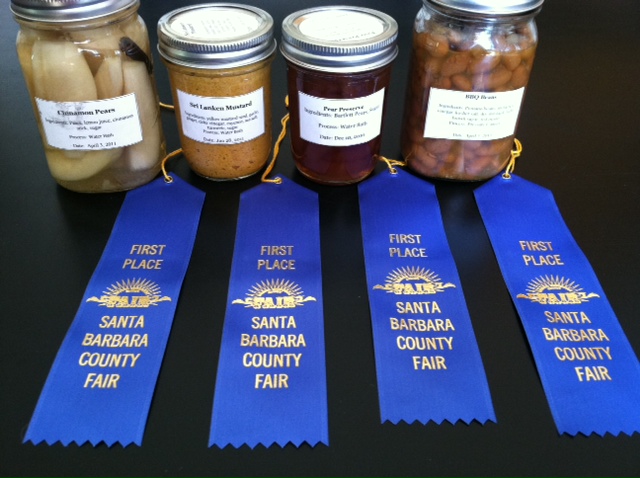 Make sure that the headspace on the jars are correct for the specified recipe: 1/2″ for pickles and relish, 1/4″ for jam/jellies/preserves, 1″ for meat, soups, and chilies. Being a little off is ok, but too much headspace can cost you points.
Put on clean rings, free of rust or stains. Wipe down your jars to make sure they are clean and have no food residue on the outside and threads at the top. I use a white cloth the day of the entry to make sure they are clean and clear.
Make sure you label the top and front of the jars. I have a template for the round wide and regular mouth jars.
Use white labels – Follow instructions from fair rules including how the recipe was processed (water bath or pressure canned).  Don't forget to make sure the "date canned" is on the label!
Put the labels on straight for a better presentation. I am really careful to take my time putting them on.
Do not add any ribbon, cloth, or embellishments. You are not judged on those things.
Most of all HAVE FUN! It's fun to enter and you never know you may have a "best in show" in your pantry!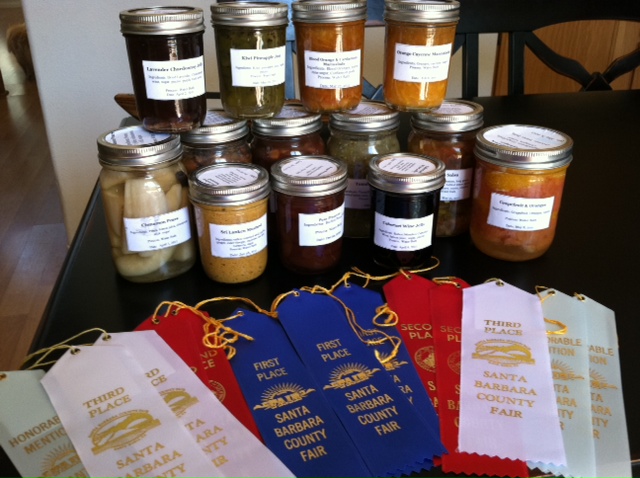 Below is the list of what the recent fair used as a point and judging system.
Judging Criteria for Jellies, Jams, Preserves & Marmalades
Appearance 30%
Color-characteristic of fruit, clearness-jellies, translucent,
container-glass, practical, clean sealed lids no paraffin seals,
neatly labeled, specific size.
Texture 35%
Jelly-tender, should quiver, cut easily and retain shape, no crystals.
Preserves-pieces firm and whole. Clear, thick syrup.
Marmalades-small, thin pieces. Clear, thick syrup.
Butters-fruit that has been pressed through sieve.
Jams-crushed fruit, no separation of fruit and juice.
Flavor 35%
Characteristic, without excessive sweetness or overcooked flavor.
Total 100%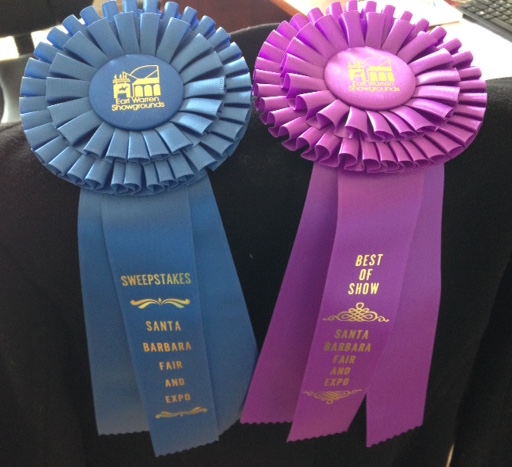 Canned Fruits and Vegetables
Note: Do not taste non-acid fruit. Should be opened by judge for inspection. Do not taste meats.
Container 10%
Tightly sealed containers of specified size, clean, neatly and properly labeled.
Pack 25%
Fullness – all space except proper headspace filled.
Neatness and uniformity. Liquid to just cover product with no excess,
clear with little or no cloudiness or small particles, free from gas bubbles.
Fruit syrups have suitable portions of sugar.
Product 65%
Absence of defects. Original food high quality, free from indicated spoilage.
Color as nearly that of standard cooked products as possible.
Free from foreign matter and undue discoloration.
Consistency, tender without over cooking.
Total 100%
Judging Criteria for Pickles and Relishes
Container 10%
Tightly sealed, clean jars designed for canning of specific size, neatly
and properly labeled.
Label: name of product, date of pack, method used.
Appearance 65%
Color-uniform, attractive, characteristic of kind with no darkening on the
top or discoloration of ingredients – 15%
Size-whole or pieces suitable, uniform size – 15%
Liquid-clear with no scum on top – 15%
Texture – 20%
Pickled fruits-tender, plump, unbroken skins or flesh. Firm, not shriveled or
overcooked.
Vegetable pickles or relishes-uniformly firm & crisp, not shriveled from excess
salt, acid or sugar.
Safety & Suitability 25%
Choice of fruits and/or vegetables that is safe and suitable for home pickling.
Total 100%
If you have any questions or would like to chat about your entries please feel free to send me an email.