One of the most overlooked and under rated savory dish is the chutney. I am guilty of putting this original Asian and Indian condiment low on my list of canning projects because of the flavor combination of vinegar with fruit. I did a Peach and Green Tomato chutney but they both paled in comparison to the addition of the Sun Dried Tomato Chutney (Cha Cha Chutney). The canning group had been requesting chutney and after the success of the Sun Dried version, I had a new passion to make a few different varieties to have in the pantry.
Before I went on vacation I wanted to do a batch of Apricot Chutney using dried apricots and apples followed by the simple spices of an apple pie; cinnamon, allspice, and cloves. The classic chutney flavor comes through in the savory items; onions, ginger, and of course the cider vinegar.
Last night this chutney was the first recipe in the canner after five days of being away from the kitchen. I had a demonstration today at Whole Foods on "pickling" and I knew this recipe was going to be a great addition to the tasting table where attendees taste my jars of produce using the pickling method. We used blue corn tortilla chips to serve with the chutney and as anticipated it was not only a great hit but the most talked about by the promotion assistant who worked for the store. Salsa? I think so!
I was extremely happy with the final product and would also use this as a side dish for a pork tenderloin or chop. I saw on Epicurious.com a Lamb Samosa (A samosa is a stuffed pastry) with an apricot chutney as a topping. Enjoy!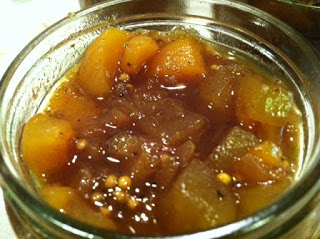 Apricot Chutney
adapted from Ball Complete Book of Home Preserving
Ingredients
1 1/2

cups

cider vinegar

2

pc.

tart green apples, peeled, cored, and finely chopped

3

cups

chopped dried apricots

3

cups

boiling water

2

pc.

small onions, finely chopped

1

cup

granulated sugar

1

cup

lightly packed brown sugar

4

cloves

garlic, finely chopped

1/2

cup

dried cranberries

2

T.

finely chopped crystallized ginger 

2

t.

mustard seeds

1 1/2

t.

ground cinnamon

1

t.

allspice

1

t.

ground black pepper

1/2

t.

ground cloves

1/4

t.

kosher salt

1/4

t.

cayenne pepper
Instructions
In a large stainless steel saucepan, combine vinegar and apples. Add apricots, boiling water, onions, granulated sugar, brown sugar, garlic, cranberries, and ginger.

Bring to a boil over medium high heat, stirring constantly. Reduce heat and boil gently, stirring occasionally, for 30 minutes.

Add mustard seeds, cinnamon, allspice, black pepper, cloves, salt and cayenne. Boil gently, stirring frequently, until thick enough to mound on a spoon, about 15 minutes.

Meanwhile prepare canner, jars, and lids. Ladle hot chutney into hot jars, leaving 1/2 inch headspace. Remove air bubbles and adjust headspace, if necessary, by adding hot chutney.

Wipe rim, center lid on jar and add ring. Turn until finger tight.

Place jars in canner and process for 10 minutes when the water comes to a full boil. Remove jars and place on dishtowel on counter and cool overnight. Remove ring and store.