What is Chutney and would I like it? The definition of chutney is similar in consistency to jelly, salsa or relish, and is used as a sweet and sour condiment. Usually made fresh, chutney contains fruit and sugar to give it a sweet taste, and almost all chutney contains vinegar and perhaps onions to give it a corresponding sour flavor.
Sounds good? I wasn't completely convinced so I am making a Peach Chutney to have prepared for a pork loin or other dinner in the future. I don't like currants or raisins so I substituted them with dried cranberries.  I found this recipe at Allrecipes.com as a Spicy Peach Chutney.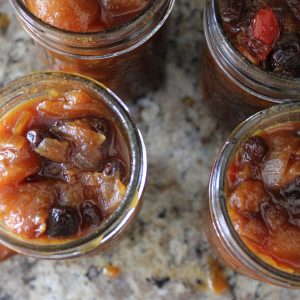 Peach Chutney
Here is the recipe I found that I thought the ingredients were paired well.
Ingredients
4

pounds

sliced peeled peaches

1

cup

raisins (I used dried cranberries)

2

cloves

garlic, minced

1/2

cup

chopped onion

5

ounces

chopped preserved ginger (I used crystallized ginger)

1 1/2

tablespoons

chili powder

1

tablespoon

mustard seed

1

teaspoon

curry powder (I omitted... i don't like curry)

4

cups

packed brown sugar

4

cups

apple cider vinegar

1/4

cup

pickling spice
Instructions
In a large heavy pot, stir together the peaches, raisins, garlic, onion, preserved ginger, chili powder, mustard seed, curry powder, brown sugar and cider vinegar. Wrap the pickling spice in a cheesecloth bag, and place in the pot.

Bring to a boil, and cook over medium heat uncovered until the mixture reaches your desired consistency. It will take about 1 1/2 hours to get a good thick sauce. Stir frequently to prevent scorching on the bottom.

Remove the spice bag, and ladle into hot sterilized jars. Wipe the rims with a clean moist cloth. Leave 1/2 inch headspace. Seal with lids and rings, and process in a boiling water bath for 15 minutes.