Whitney Donohue was kind enough to make the recipe this week and sent me the pic and review of the final product. Very excited to have this recipe in my library.
You can now purchase Clear Jel from
SB Canning Store… click here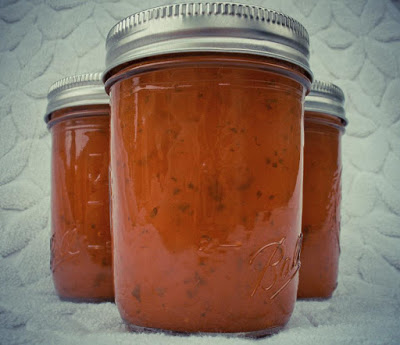 Condensed Tomato Soup
Here is my adapted Condensed Tomato Soup recipe using Clear Jel as the thickener in place of the usually flour and butter roux.
Ingredients
8

lbs

ripe tomatoes, unpeeled, quartered

1

cup

celery, diced

2

cups

onion, diced

1

pc.

large green or red pepper,  seeded and diced

1

cup

fresh parsley

6

pc.

bay leaves

3/4

cup

Clear-Jel  

2 1/2

Tablespoons

salt (not required and can salt when serving)
Instructions
Place tomatoes, celery, onion, green pepper in a large stainless steel pot and bring to a boil. Add parsley and bay leaves. Cook uncovered until tender, stirring as needed.

Press through a food mill or sieve into a large stainless steel or enameled cast iron saucepan, add salt.

Mix Clear Jel by adding it to a ½ cup of cooled tomato puree. Bring soup back to a boil and stir in the diluted Clear Jel. Continue to boil for two minutes till thick consistency.

Ladle into pint jars and fill to 1" headspace. Add 1 T. bottled lemon juice to each pint and  Wipe rims and add hot lids and rings.

Process in pressure canner at 10 pounds of pressure for weighted gauge and 11 pounds for dial gauge, for 25 minutes for pints or half pints. Do not use quarts for this recipe.

When ready to make the soup just heat with equal amount of liquid such as milk, water or chickenbroth. Using the Clear Jel will leave no taste to the soup.