After a few comments about the problems with High Fructose Corn Syrup I was determined to find an organic way to make the Praline Syrup without using corn syrup. I found a jar of something called cane sugar syrup made by Abram Lyle and Sons. It didn't have corn, or HFCS or anything that I could summize was bad for you other than plain ole cane sugar. I bought it since it said it could be substituted for corn syrup in recipes. I put the recipe together just as instructed and the flavor in the pot was amazing. It tasted just like a praline topping for ice cream. It was sweet but the texture was just the perfect consistency for a pancake syrup. I also changed the dark brown sugar for organic light brown sugar since I thought, which I was correct, that the extra molasses in the dark brown sugar would be too overpowering.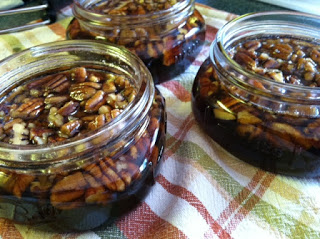 Praline syrup
Here is the recipe with the adaptations from The Ball Complete book of Home Preserving.
Ingredients
2

cups

corn syrup (I used cane sugar syrup)

1/2

cup

water

1/3

cup

lightly packed dark brown sugar (I used organic light brown sugar)

1

cups

pecan pieces

1/2

t.

vanilla
Instructions
Prepare canner, jars, and lids. In a stainless steel saucepan, combine corn syrup, sugar, and water. Heat over medium head stirring till dissolved. Increase heat and bring to a boil for one minute.

Reduce heat and stir in pecans and vanilla. Boil gently, stirring constantly for 5 minutes.

Ladle hot syrup into hot jars, leaving 1/4" headspace. Wipe rim, add lid and rings and process in water bath for 10 minutes at a full boil. Remove jars and cool on dishtowel overnight.