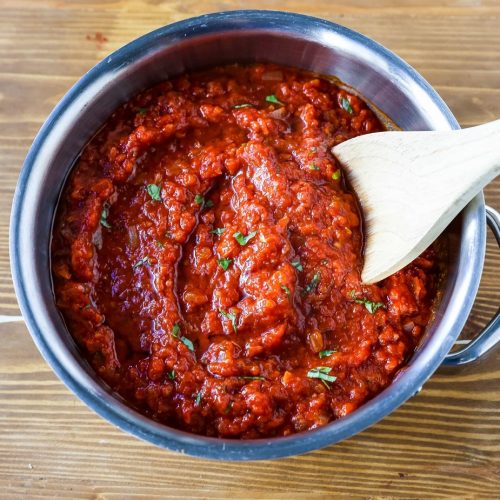 Spaghetti Sauce Canning Recipe
Classic Spaghetti Sauce Canning Recipe
Ingredients
30

pounds

tomatoes (regular or heirloom are best)

1

cup

chopped onion

5

pcs

cloves garlic, minced

1

cup

chopped green pepper, or celery

1

pound

fresh sliced mushrooms

4.5

teaspoons

salt

2

tablespoons

oregano

4

tablespoons

minced parsley

2

tsp

black pepper

1/4

cup

brown sugar

1/4

cup

olive oil
Instructions
Wash tomatoes and dip in boiling water for up to aminute, until skins split. Dip in cold water and slip off skins

Remove cores, and cut tomatoes into quarters. Boil tomatoes 20minutes in a large uncovered saucepan. Process tomato mixture through a foodmill or sieve to remove seeds.

Saute onions, garlic, celery or pepper, and mushrooms in oliveoil until tender. Combine sauteed vegetables and tomatoes and add remainingspices, salt and suagr. bring to a boil. Simmer, uncovered, until thick enoughfor serving over pasta. Stir frequently during this time to prevent burning.

Fill jars, leaving a one-inch head-space on each. clean rims,put on lids and process in a weighted -gauge pressure canner as follows:

At 0- 1,000 feet elevation, process pints for 20 minutes or quartsfor 25 minutes at 10 lbpressure. Above 1,000 feet, increase pressure to 15 pounds (time remainsthe same).
Notes
A good spaghetti sauce recipe is helpful in processing a bountiful summer harvest of tomatoes and preparing for year-round food needs.
This recipe uses a pressure canner for the jarring step.