Tomorrow is the canning group and we are having a small crowd since many people are out of town or busy for the weekend. I did a bit of shopping today to pick up some cane sugar and blackberries for the preserve we will be making tomorrow. I took away some ideas from my canning session with Leah the other night in that I need to work on infusing flavor into the jams, jellies, and marmalade but in a subtle way.
I found myself searching for dried herbs such as lavender, lemon verbena, and other mellow flavors. I check at both Wholefoods and Lazy Acres and found very little in what I was reaching for. I decided to head to a place I had not been to in some time but thought that they would be an excellent source, Vices & Spices.
Vices & Spices is a funky place in midtown and this little shop carries some bulk spices and herbs and brews teas and coffees at their bar. They also carry a full array of teas in bulk that you can purchased by the ounce. I asked about lavender since I didn't see it on the spice shelf and the women behind the counter pointed me to the teas. Then it hit me… that was the way to get the flavors that I wanted, brewed exotic teas.
The selection now was a bit overwhelming and I was compelled to smelling anything that sounded interesting from the labels on the bins. The assortment of aromas pulled seven containers off the shelves for 1/2 ounce of each to first experiment with at home on my orange marmalade and a plum preserve that I wanted to do since I had some plums that were going bad. I told the ladies that if I had a chance I would bring them a sample of the two recipes tomorrow. They seemed excited to see the results.
I made two recipes this afternoon using my new ingredients; tea. The first process I used was to slice my rinds as I did the night before at Leah's house. Take the orange and slice it thinly and cut it in small segments and add water and the tea in my tea ball and simmer all of those ingredients together first for 15 minutes.  After I added the pulp and sugar to the rinds I lost a lot of the tea's flavor, but I could still taste its subtlety in the final product before water bathing.
Chai Oh My Orange Marmalade
The ricept is another orange marmalade with an infused Chai tea.
Ingredients
1

pc.

orange - sliced thinly and cut into small segments

2

cups

water

1

teaspoon

chai tea herbal blend from Vices & Spices (use any Chai blend)

3

pc.

oranges - peeled, segments cut into small cubes 

2

cups

sugar
Instructions
In a dutch oven add the thinly sliced segments and water.

In a tea ball or cheese cloth, add the tea to the recipe.

Cook to a boil for 15 minutes and put the cover on the pot for 10 minutes to thoroughly seep the tea. Remove the tea ball.

Add the orange pulp (small cubes) and sugar and return the mixture to a boil and getting to 220 on a candy thermometer, about 25 minutes. You are looking for the gel point.

Ladle mixture into jars and water bath for 10 minutes at a rapid boil. Makes 3 half pints. 
Second recipe. This time I left the tea ball in after I added the sugar and continued to let it cook to almost the gel point. My ball got super sticky but cleaned up well. In leaving the ball in the whole time I achieved the rich bold flavor that made my second recipe so mysteriously delicious.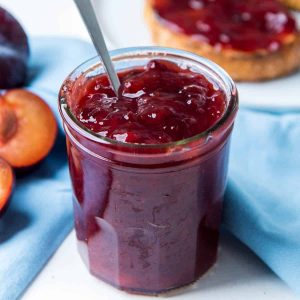 Spiced Plum Preserve
My second process with the teas was with a Plum preserve infused with an Indian Spice tea.
Ingredients
8

pc.

medium plums -small chopped - do not remove the peel

1

cup

hot water

1

teaspoon

Indian Spice Tea from Vices & Spices

2

cups

sugar

1

package

powdered pectin
Instructions
In a large coffee mug add 1 cup boiling water then add the tea ball with the Indian Spice tea.

Cover and seep for 15 minutes.

In a dutch oven add the plums and begin cooking them down. Stir frequently as plums have a tendency to burn.

After 15 minutes add the tea water and then add the ball to the pot. Continue to cook for another 10 minutes at a full boil.

Add the sugar and return to boil then add the pectin and boil for an additional 2 minutes.

Remove the tea ball from the recipe. Make sure the consistency of the recipe is now where you want it. If its still a bit thin continue to cook it down a bit.

Ladle recipe into jars and water bath for 10 minutes at a full boil. Makes 4 half pints.