I cook the recipes, taste before they go into the jar, but the product in the pot isn't always the exact same as the product when it's opened later in the jar. Time and water bath processing always add a bit more cooking and always the completion of the marriage of flavors. I have to go back to a recipe I canned about two weeks ago and give you an update.
I know that the Caramelized Onion Relish is by far my best and yummiest recipe I have done thus far. It has a deep sweetness from the balsamic and red wine combination with just a little hint of the tartness of the vinegar. The onions are soft with a little bite, but not mushy and the color is a deep burgundy. I had it this morning as a topping over cream cheese on my onion bagel. I think that even a person who doesn't love onions would love this combination. The wine, a Greg Norman Cabernet Sauvignon, may have played a part in the outcome since it is good just out of the bottle. Chefs and Cooking teachers always say to use wine in your recipes that you
would drink in a glass.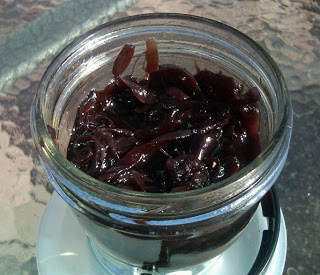 Carmelized Onion Relish
I can't believe that this super simple recipe has such depth of flavor.
Ingredients
2

pc.

large red onions, peeled

1/4

cup

firmly packed brown sugar

1

cup

dry red wine

3

tbsp

balsamic vinegar

1/8

tsp

each salt and freshly ground pepper
Instructions
Slice onions into very thin slices. Combine onions and sugar in a heavy non-stick skillet. Cook, uncovered, over medium-high heat for about 25 minutes or until onions turn golden and start to caramelize, stirring frequently.

Stir in wine and vinegar. Bring to a boil over high heat, reduce heat to low and cook for about 15 minutes or until most of the liquid has evaporated, stirring frequently. Season to taste with salt and pepper.

Remove jars from canner and ladle relish into jars leaving a 1/2 headspace. Process in water bath canner for 10 minutes for half-pint jars.