Chicken is simple to 'put up" in the pressure canner and sometimes changing up the flavor to complete more of base for a future meal has advantages. As new "pressure canning" canners become avid followers watching my site I look for inspiration that will be safe for canning. An email from Diana was no exception with this incredibly easy recipe to make a sweet and sour liquid for your chicken for pressure canning. I know that it's not wok fried chicken, but sometimes a healthier version could just be as delicious.
When I received this recipe I thought it might be too sweet but Diana found that with using unsweetened pineapple it helped with the sweetness. The key to this recipe is making sure you do the prep first. Chopping the onions and peppers and mixing them up in a bowl. Cubing the chicken into 1″ pieces. The other difference is that Diana used pint and a half jars. You can use pints or quarts for this recipe. If you use pints you will cut back on the "fill" amounts in each jar from Diana's description below.
Diana: "To each pint and a half jars I put 1 cup raw cubed chicken, 1/2 cup combo onion & pepper and 1/2 cup chunked pineapple then filled with the hot liquid. I didn't think it was too sweet.  I think this will be good this winter poured over rice. Oh and the pineapple was unsweetened."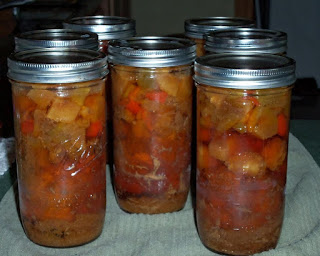 Chicken Sweet and Sour
The key to this recipe is making sure you do the prep first.
Ingredients
4.5

lbs

chicken,boneless, skinless breasts cut in 1" bite sized pieces

2

pc.

large green peppers chopped

1

pc.

large red pepper chopped

2

pc.

medium onions chopped

3

20 oz cans

pineapple chunks drained, reserve juice (unsweetened)

3/4

cup

brown sugar

1 1/4

cups

white vinegar

6

tablespoons

soy sauce

4

tablespoons

ketchup (Heinz because it contains no thickeners)

1

tsp

ginger powder
Instructions
Prepare by sterilizing 7 - Pint and half jars or 5 quarts or 10 pints (23 qt double stack canner) and their lids/rings.

Heat in a stainless steel pot add the brown sugar, vinegar, soy sauce, ketchup, ginger, and 2 1/2 cups of pineapple juice and 1/2 cup of water and bring to a light boil until the sugar is dissolved.

Layer the chicken, onions, peppers and pineapple in pint and half jars.  Pour liquid over the solids in the jar to 1" headspace.

Pressure can for 90 minutes for pint and a half or quarts and 75 min for pints at 11 lbs pressure(dial gauge) and 10lbs pressure (weighted gauge). Adjust for altitude.