I wanted to do a quick post for a Plum Sauce I made that eliminates all of the wheat or gluten based ingredients which some of my new canning friends can't eat. A few other recipe had soy sauce and Worcestershire which both have wheat issues. This plum sauce is as good or better than the traditional recipe since it has the sweet/savory flavor without any pre-processed ingredients.
It is a great slow cook sauce for meatballs rather than the traditional grape jelly base. Lastly it is a great basting sauce for your pork or chicken on the barbecue. The sugars from the sauce will help caramelize the skin on the grill. Enjoy!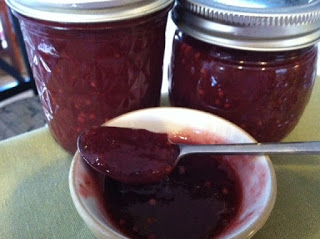 Plum Sauce
This sauce is great for your asian inspired recipes such as a dipping sauce for spring or egg roll, and moo shu pork.
Ingredients
10

cups

prepared plums (pitted and chopped, not peeled), about 4 lb

2

cups

firmly packed brown sugar

1

cup

granulated sugar

1

cup

cider vinegar

3/4

cup

finely chopped onion

2

tbsp

finely chopped green chili peppers

2

tbsp

mustard seed

1

tbsp

kosher salt

1-2

cloves

garlic, minced

1

inch

piece gingerroot, minced 
Instructions
Pit and finely chop plums. Measure 10 cups, set aside. Place 6 clean pint canning jars on a rack in a boiling water canner; cover jars with water and heat to a simmer (180°F/82°C). Set screw bands aside. Keep jars and sealing discs hot until ready to use.

Combine sugars, vinegar, onion, mustard seed, chili peppers, salt, garlic and gingerroot in a large stainless steel saucepan.

Bring to a boil; add plums. Return mixture to a boil; boil gently, stirring occasionally, about 1 3/4 hours or until thick and syrupy.

Ladle sauce into a hot jar to within 1/2 inch of top of jar (headspace). Using nonmetallic utensil, remove air bubbles and adjust headspace, if required, by adding more sauce. Wipe jar rim removing any food residue.

Center hot lids on clean jar rim. Screw band down until resistance is met, then increase to fingertip tight. Return filled jar to rack in canner. When canner is filled, ensure that all jars are covered by at least one inch of water.

Cover canner and bring water to full rolling boil before starting to count processing time. Process boil filled jars 10 minutes.

Makes 6 pints. (you can also ladle into half pints to give as gifts for the holidays)