Brandied Cranberry Conserve
Tonight I will embark on the cranberry canning experiment of three Thanksgiving recipes to continue the search for the perfect side dish for the bird. I have chosen the three recipes out of the "The Complete Book of Small Batch Preserving".
I am posting the recipes now and will post the pictures tomorrow morning when they are cooled with comments on the ease of cooking and taste. First on the list is an interesting twist with an ingredient that I have never worked with or for that matter tried, Brandy.
Now according to Wikipedia:
A conserve is a jam made of fruit stewed in sugar. In some cook books, such as the Chutneys Handbook, conserves are referred to as whole fruit jam.
Due to a shorter cooking period, not as much pectin will be released from the fruit, and as such, conserves (particularly home-made conserves) will sometimes be slightly softer set than some jams.
An alternate definition holds that conserves are preserves made from a mixture of fruits and/or vegetables. Conserves may also include dried fruit or nuts.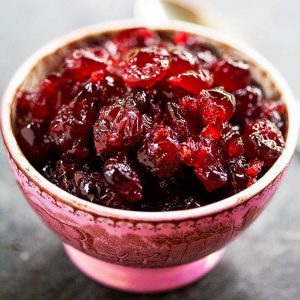 Brandied Cranberry Conserve
Brandied Cranberry Conserve
Ingredients
1

pc.

small orange

1

stick

Cinnamon 4 inches long

3

pc.

whole cloves

1/2

cup

water

1

T.

Lemon juice

3

cups

fresh or frozen cranberries (I will be using fresh)

1 1/2

cups

sugar

1/3

cup

brandy

1/4

cup

slivered almonds
Instructions
Finely chop orange and combine with cinnamon stick, cloves, water, and lemon juice in medium stainless steel or enamel saucepan.

Bring to boil, reduce heat, cover, and boil gently for 10 minutes. Remove cinnamon and cloves.

Add cranberries and sugar. Return to boil, reduce heat and broil gently, uncovered till berries pop and mixture will form a light gel, about 5 minutes, stirring often. Remove from heat and cool slightly; stir in brandy and almonds.

Ladle into hot jars and process for 10 minutes. Makes 3 1/2 cups.
The second recipe says that it is great served with poultry or with crackers and cheddar cheese. I always like a versatile recipe especially when we have unexpected company and I need to put together some noshes on the spot.
This recipe includes another ingredient that I am not too familiar with, orange liqueur. My husband is a professional bartender and says that you can use Grand Marnier Or Triple sec (meaning "Triple distilled") which is a strong, sweet and colorless orange flavored liqueur. It is made from the dried peel of oranges found on Curacao, an island in the Caribbean.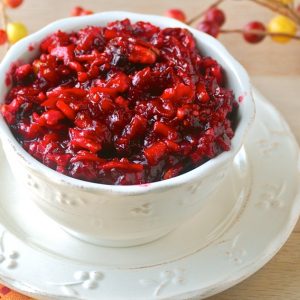 Cranberry Apple Pear Relish
My second recipe is a relish but is more on the sweet side than the savory.
Ingredients
3

cups

fresh or frozen cranberries

3

pc.

apples, peeled cored, and diced

2

pc.

pears, peeled cored, and diced

1 1/2

pc.

golden raisins

2

cups

sugar

1

cup

orange juice

2

T.

grated orange rind

2

t.

ground cinnamon

1/4

t.

ground nutmeg

1/2

cup

orange liqueur
Instructions
Combin cranberries, apples, pears, raisins, sugar orange juice and rind, cinnamon and nutmeg in very large saucepan. Bring to a boil over high heat, stirring frequently.

Reduce heat and boil gently, uncovered for about 25 minutes or until mixture thickens, stir occasionally. Remove from heat and stir in liqueur.

Ladle hot relish into the hot jars and fill within 1/2 inch of rim. Process 10 minutes for half pints and 15 minutes for pints.
Lastly, I wanted to do a traditional Cranberry Sauce, but with a not so familiar flavor. The added taste of a deep port wine to round out the sweetness of the cranberries gives this recipe a must try.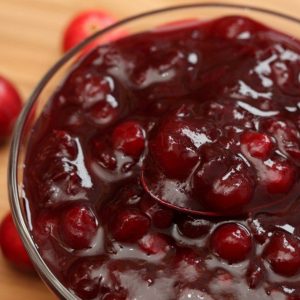 Cranberry Sauce with Spirit
Cranberry Sauce with Spirit
Ingredients
1

cup

sugar

1/4

cup

water

1

T.

wine vinegar

2 1/2

cup

fresh or frozen Cranberries

1/2

cup

port wine

2

sticks

cinnamon 3 inches long
Instructions
Combine sugar, water, vinegar and boil until sugar is dissolved. Add cranberries and boil till they pop. Mixture will thicken and process when at desired consistency.

Ladle in hot jars leaving 1/2 headspace and process 15 minutes for half pint jars.