Pressure canning is the only method recommended safe by the U.S.D.A. for low-acid foods such as vegetables, meats and fish.
No matter how high you turn up the heat, boiling water cannot surpass 212 degrees F (even lower at high altitudes). A Pressure Canner brings jar temperatures up to 240-250 degrees F at just 15 lbs sq. in. This temperature can be reached only by creating steam under pressure.
100% bacteria kill guaranteed!
Simple and safe to use
Note: Glass-top ranges are not designed for the high heat of canning.
Becoming Familiar with the Parts of a Pressure Canner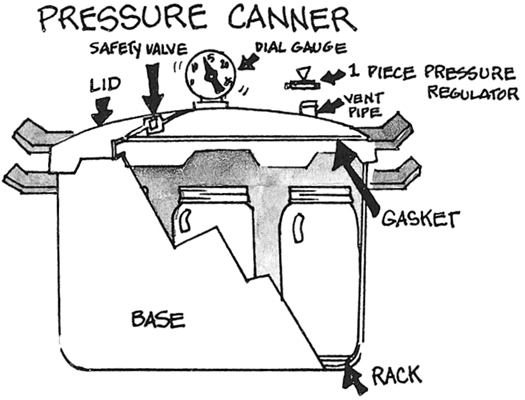 Steps for Successful Steam-Pressure Canning
Put 2-3 inches of hot water in canner. Place filled jars on the rack, using a jar lifter. Fasten canner lid securely.
Leave weight off vent pipe. Heat at the highest setting until steam flows from the vent pipe.
Maintain high heat setting, exhaust steam 10 minutes, and then place weight on vent port. The canner will pressurize during the next 3 to 5 minutes. If your canner has a "lid lock" on the front it will sputter a bit then pop up. You might have some condensation coming from under the weight or pressure regulator during processing.
Start timing the process when the pressure reading on the dial gauge indicates that the recommended pressure has been reached. For weighted gauge when your canner begins to rock the correct number according to your instructions with the canner (usually 3 to 4 per minute)
Regulate heat under the canner to maintain a steady pressure at or slightly above the correct gauge pressure. If the pressure reading goes below the recommended pressure, you must bring the pressure back up and start the timing process over again from the beginning.
When timed processing is completed, turn off the heat. (dial needle moves back to "0" and no steam sounds when weight is gently nudged). Do not force-cool the canner. Releasing pressure from a partially opened vent or placing the canner under cool water will result in under-processing. It may also cause unsealed jars and loss of liquid from the jars. Quick-cooling can also warp the canner lid of older model canners.Note: Depressurization of older canner models without dial gauges should be timed. Standard size heavy-walled canners require about 30 minutes when loaded with pints and 45 minutes when loaded with quarts. Newer thin-walled canners cool more rapidly and are equipped with vent locks that are designed to open when the pressure is gone. These canners are depressurized when the piston in the vent lock drops to a normal position. Some of these locks are hidden in handles and cannot be seen; however, the lid will not turn open until the lock is released.  (USDA)
After the canner is depressurized, remove the weight from the vent port. Wait 2 minutes, unfasten the lid, and remove it carefully. Lift the lid away from you so that the steam does not burn your face. Leave jars in canner for 10 minutes.
Remove jars with a lifter, and place on towel or cooling rack, if desired. Do not set on a cold surface or expose to breezy conditions.
Listen for "pop". Leave jars on counter to cool overnight.
Additional Safety/Operating Tips
Gauges: Check dial gauges for accuracy before use each year and replace if they read high by more than 1-2 pound pressure. Gauges may be checked at most county Cooperative Extension offices. Replacement gauges and other parts for canners are often available at stores offering canning equipment or from canner manufacturers. When ordering parts, it will be helpful to know the model number of your canner.
Gaskets: Handle canner lid gaskets carefully and clean them according to the manufacturer's directions. Nicked or dried gaskets will allow steam leaks during pressurization of canners and should be replaced. Keep gaskets clean between uses. A lid which is difficult to remove after cooling may indicate a gummy, or dry gasket and is reason to replace it.
Tips:
1. Make sure to follow the recipe's headspace instructions. Be vigilant about this since too little headspace can cause food to escape over the rim and cause the jar not to seal.
2. When canning meat, fish, or poultry wipe the rim of the jar before adding the hot lid with vinegar on a paper towel to eliminate any fat that has dripped.
3. Make sure to add 2 T. white vinegar to the water to avoid hard water clouding of the jars.
4. If you are going to double stack your jars, make sure that you use a rack in between them and never set jars directly on top of each other.
5. When reheating jars that contain meat make sure to heat them for 20 minutes before serving.
Pressure Canning Chart

This canning chart shows processing times for low-acid foods, which must be canned using a pressure canner.

The processing times below are for canning at sea level using a weighted-gauge pressure canner.

For more foods and canning guidelines see Ball Blue Book of Canning.

Food

Pack Method

Process Time

PSI (pounds per square inch)

Pints

Quarts

– 2000 ft.

Artichokes (Jerusalem)

Hot

25 min.

25 min.

11 lb.

Asparagus

Raw
Hot

30 min.
30 min.

40 min.
40 min.

11 lb.
11 lb.

Beans (green or yellow)

Raw
Hot

20 min.

20 min.

25 min.
25 min.

11 lb.
11 lb.

Beets

Hot

30 min.

35 min.

11 lb.

Broccoli

Canning is not recommended. Best to freeze or
pickle for preservation.

Brussels Sprouts

Canning is not recommended. Best to freeze or
pickle for preservation.

Cabbage

Canning is not recommended. Best kept in cold storage.

Carrots

Raw
Hot

25 min.
25 min.

30 min.

30 min.

11 lb.
11 lb.

Cauliflower

Canning is not recommended. Best to freeze
for preservation.

Corn

Raw
Hot

55 min.
55 min.

85 min.
85 min.

11 lb.
11 lb.

Eggplant

Canning is not recommended.

Lima Beans

Raw
Hot

40 min.

40 min.

50 min.
50 min.

11 lb.
11 lb.

Mushrooms

Hot

45 min.

11 lb.

Okra

Raw
Hot

25 min.

25 min.

40 min.
40 min.

11 lb.
11 lb.

Peas

Raw
Hot

40 min.
40 min.

40 min.

40 min.

11 lb.
11 lb.

Peas (snap)

Canning is not recommended. Best to freeze
for preservation.

Peppers

Hot

35 min.

11 lb.

Potatoes, White (cubed)

Hot

35 min.

40 min.

11 lb.
Pumpkin (cubed)

Hot

55 min.

90 min.

11 lb.

Spinach and Other Greens

Hot

70 min.

90 min.

11 lb.

Squash (summer)
Canning is not recommended. Best eaten fresh.
Squash (winter)

Hot

55 min.

90 min.

11 lb.

Sweet Potatoes (cubed)

Hot

65 min.

90 min.

11 lb.