SBcanning enjoyed this pizza pasta dish recently at a friend's house, so decided to make it at home.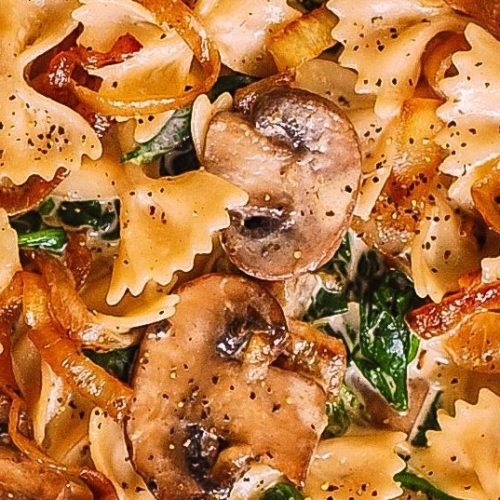 Bow tie macaroni pizza
It is healthy, easy to make and a nice change from regular pizza. Try it; you may like it!
Ingredients
1

tbsp

extra-virgin olive oil

1

elephant

clove of garlic, minced

1

Spanish

onion, chopped finely

1

can

stewed tomatoes (my favorite is Aylmer's or Hunt's)

2

small

jars tomato paste

1

tsp

dried basil

1/2

tsp

brown sugar

1

Dash

of freshly ground pepper

1

tsp

dried oregano

1/2

bay

leaf
Bow-Tie Macaroni Pizza Topping:
1

cup

grated Mozarello cheeze

1

small

Spanish onion thinly sliced

1

cup

grated light Cheddar cheese

1

tbsp

oregano leaves (fresh if you have it)
Instructions
Saute onion and garlic in the olive oil until transparent and soft; then add the remaining ingredients, mixing while adding them.

Simmer on very low for 1 hour, or until sauce thickens; stir occasionally during the simmering time.

Healthy Recipe yields sauce to make 1 large or 2 medium pizzas. Taste is the best.
Bow-Tie Macaroni Pizza Topping:
Cook 1 lb extra-lean ground beef, drain and pat dry any fat using a paper towel. Set aside.

Cook Bow Tie Macaroni (using whole wheat) and drain thoroughly. Set aside.

Top pizza crusts evenly with pizza sauce

Sprinkle hamburger over pizza evenly.

Sprinkle 1 tbsp oregano over the hamburger.

Top with slices of Spanish onion.

Sprinkle cup of Cheddar Cheese evenly over pizza. Sprinkle cup of Mozzarello cheese evenly over pizza.

Using pepper mill, sprinkle freshly ground pepper over pizza to taste.

Dash of Sea salt to taste.

Bake 35 to 40 minutes in 350F degree oven. Check with fork to see if pizza crust is done.

Remove from oven, with oven mitts.

Cut each pizza into 6 pieces and serve.

Bake pizza 35-40 minutes in a 350F degrees in a low altitude or 450F degrees in high altitude. Pizza is ready when fork comes out clean when checked.

Remove pizza from oven, using oven mitts; cut pizza into six pieces, with a pizza cutter.

Serve pizza with a beverage of your choice, and a Caesar or green tossed salad.