Pizza is such a favorite with almost everyone. Pizza is very nutritious when the right foods are used. This is going to be an Italian Pizza, so we get to put all kinds of cheese and sausage on it. Try to pick out the leanest sausages for your pizza as the cheese really spikes the calories and fat up.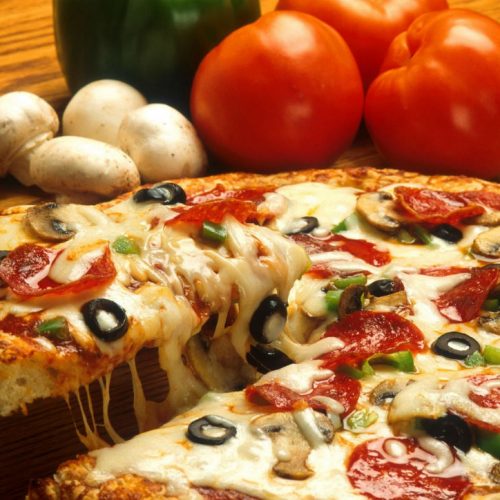 Italian pizza topping
Pizza Sauce (Recipe under Main Categories-Pizza)
Ingredients
1

cup

Provolone cheese grated

1

cup

Asiago cheese grated

2

cups

Portabello Mushrooms sliced

2

cups

assorted sausages fresh from delicatessen

1

cup

thinly sliced beef steak tomatoes

1

cup

thinly sliced zucchini

1

tbsp

freshly chopped sweet basil

1

Dash

of freshly ground black pepper
Instructions
Spread pizza sauce onto pizza crust evenly.

Add sausages, portabello mushrooms and sliced zucchini and tomatoes evenly on pizza crust, sprinkling freshly ground pepper and the sweet basil on top of mixture.

Add shredded Provolone and Asiago cheese evenly on top of vegetables. This pizza looks incredible.

Bake pizza 35-40 minutes in a 350F degrees in a low altitude or 450F degrees in high altitude. Pizza is cooked when fork comes out clean when checked.

Remove pizza from oven, using oven mitts; cut pizza into six pieces, with a pizza cutter.

Serve pizza with a beverage of your choice, and a Caesar or green tossed salad.