Did you know, that an omelette contains about everything you need regarding proteins, carbohydrates and vegetables?
I learned to make an excellent omelette from my son years ago. He makes the BEST!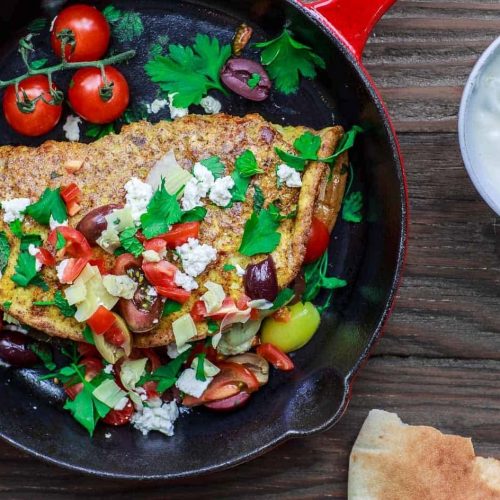 Ingredients
1

small

Roma tomato cubed into 1/2″ square cubes

2

tablespoons

virgin olive oil

1

medium

spanish onion chopped into small pieces

1

tablespoon

garlic minced finely

1

pinch

Sea Salt to taste

1

Freshly

ground pepper to taste

2

cups

spinach washed and rinsed well, with stems removed

1

tbsp

black olives thinly sliced

6

large

eggs with 2 tbsp water added and beaten well

1/2

cup

feta cheese crumbled (organic)

1

tbsp

fresh dill (or one tsp dried)
Instructions
In a cast iron skillet or frying pan, saute the garlic, onion and add the salt and pepper. Cook until the onion is transparent.

Add the spinach leaves and olives; then pour the egg mixture over the entire frying pan of spinach leaves, adding the Feta cheese intermittently with the egg mixture and the dill.

The skillet should be at medium heat; cover and let cook for approximately 4 – 5 minutes. The omelette should rise nicely. Turn omelette over with a wide fry pan flipper and let cook for approximately 1 to 1 1/2 minutes. Cut the Incredible Mediterranean Omelette into quarters and serve.

Hint: To make the best omelette, it is best to use water to mix into the eggs and beat until fluffy.

Next Hint: Skillet must be medium high with olive oil in it before your pour the omelette in.

Next Hint: Be certain to cover the omelette the first 4 to 5 minutes while cooking.

Serve with fancy toast on a eye-pleasing silver platter.

Serves 4 to 6 people. Enjoy this scrumptious recipe!