We just love this delightful coffee cake or dessert as you wish, which we have reduced the amount of what we call the "baddies" in cooking. If you are diabetic you may replace the sugar with Stevia'; notice the cream cheese is the light or low-fat and the flour is a Nutri-Flour which is half regular flour and half whole wheat.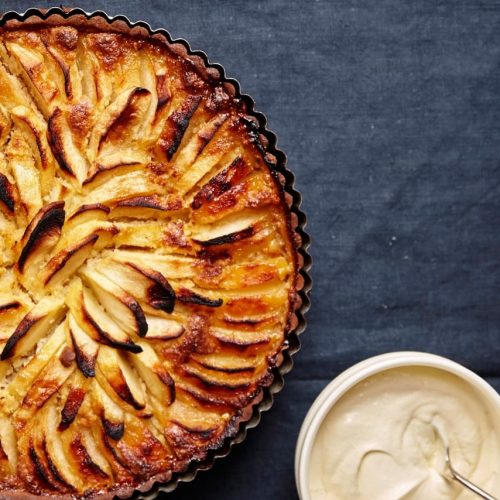 Apple tart delight
Apples maintain healthy living for all of us, no matter what age.
Ingredients
1/2

cup

softened butter

1/3

cup

sugar

1/2

tsp

vanilla

1

cup

Nutri-Flour by Robin Hood

1/8

tsp

cinnamon

1

package

8 oz reduced-calorie cream cheese

1/4

cup

sugar

1

free

range, organic egg

1-1/2

tsp

vanilla

1/3

cup

sugar

3/4

tsp

cinnamon

4

cups

Granny Smith apples, sliced and peeled
Instructions
Cream butter and 1/3 cup sugar until light and fluffy.

Add vanilla and beat well.

Add flour and cinnamon and beat well.

Spread onto bottom and 1 inch up sides of a 9-inch springform pan and set aside.

Beat light cream cheese and 1/4 cup sugar until fluffy.

Beat in the egg and vanilla; then spread onto crust.

Combine remaining sugar and cinnamon in a large bowl adding apples into mixture.

Arrange apples in an attractive pattern on top of filling.

Bake at 450°F for 10 minutes. Reduce heat to 400°F/200°C and bake 25 minutes.

Cool apple mixture thoroughly and serve..

Makes 8 deliciously healthy living servings. Enjoy!

At SBcanning, we try to make our desserts or muffins or cakes with the leastamount of fats; remember one serving please! Enjoy!