There are some recipes that we just have to put into the SBcanning Collection. Welsh Rarebit is one of these.
I have yet to see a recipe for Welsh Rarebit, in a Recipe book, yet it is so tasty, that I feel we must offer it to you.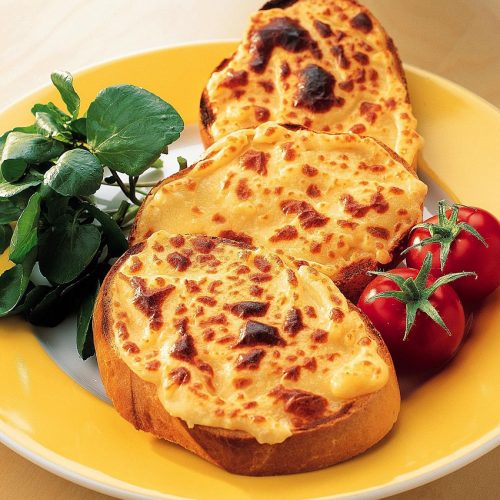 Welsh rarebit
It is nutritious, with whole grain bread, protein in the cheese (light), cayenne pepper and freshly ground pepper, and there is one egg in the recipe.
Ingredients
4

slices

whole grain bread

1

tbsp

butter

1/2

lb

light Cheddar cheese, grated

1/2

tsp

dry mustard

1

pinch

of cayenne pepper

1

Freshly

ground black pepper

1/2

cup

skim milk or 1% milk

1

egg

well beaten

1

Sliced

tomatoes and very crispy bacon (optional)
Instructions
Using a double boiler, melt 1 tbsp butter.

Add shredded light Cheddar cheese, dry mustard and pepper.

Stir in 1/2 cup milk; continue stirring until the cheese is well blended.

Stir constantly, and as the cheese melts, stir in 1/2 cup 1% milk.

Slowly add beaten egg, stirring briskly until it has blended into hot cheese sauce.

Pour cheese sauce on toast immediately; garnish with crispy bacon and tomato slices.

Healthy Recipe serves 4 people.