I have been getting quite a few requests for Horseradish and have only found that there were a few recipes that said, "add vinegar, pack jars, and stash in the refrigerator". That really bugged me since we pickle so many things that I wasn't sure the exact reasoning for "frig only".
So in doing my research I found out that freshly ground horseradish has a 5.35 pH which is amazingly very low in acidity for something that feels like it could take out your nose hairs when eaten in too large of a quantity. Also vinegar stops this reaction and stabilizes the flavor. For milder horseradish, vinegar is added immediately.
In addition as processed horseradish ages, it browns and loses potency. Horseradish that remains unrefrigerated gradually loses flavor. So this particular root will require a lot of acidity to bring that pH number into the safe zone and maybe only doing a few jar for neighbors and letting them know to eat them as it will loose potency will be a good way to can them up.
Chris, one of my followers on Facebook, dug up her horseradish just so that she could put up this recipe. She said hubby gives it "Thumbs up".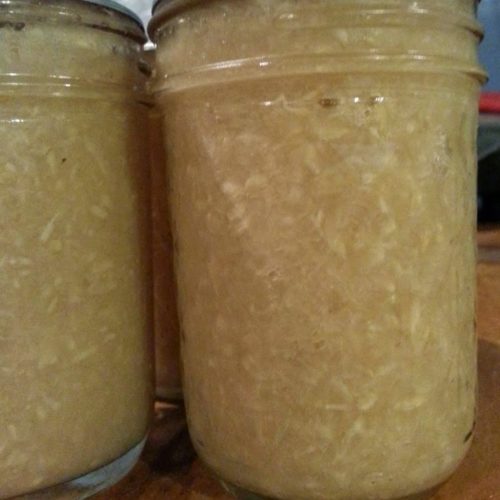 Pickled Horseradish
I did find a recipe in my Complete Book of Pickling that is a canning recipe that adds vinegar and sugar and has the proper processing and headspace.
Ingredients
1

cup

sugar

1

T.

kosher salt

2

cups

white vinegar

7

cups

lightly packed shredded horseradish root.
Instructions
Prepare 4 half pints or 8 - 4oz jars. In a saucepan, combine sugar, salt and vinegar. Bring to a boil over medium high heat, stirring often until sugar and salt are dissolved.

Add horseradish and return to a boil, pressing occasionally to immerse horseradish in liquid. Remove from heat.

Pack hot horseradish and liquid into hot jars, leaving 1/2 inch headspace by adding the hot liquid. Remove air bubbles and adjust headspace as necessary.

Wipe rim and add hot lid and rings. Tighten finger tight. 

Place jars in water bath canner and return water to a boil. Process for 10 minutes.

Remove jars and set on dishtowel overnight. Check lids the next day and refridgerate all that have not sealed or reprocess. 

Notes: Horseradish root should be firm. You will need 3lbs of whole root to get 7 cups of shredded. You can add this pickled horseradish to the filling for deviled eggs.