Ball Blue book has a great recipe for canning carrots and add a bit of sweetness to the jar. They have taken the tartness of orange juice and the sweetness of brown sugar and created a great glaze for the pressure canner to infuse the perfect flavor into carrots. Because this was a test recipe for flavor I used the packaged baby carrots from the store so I could check out the consistency and taste before I recommended them.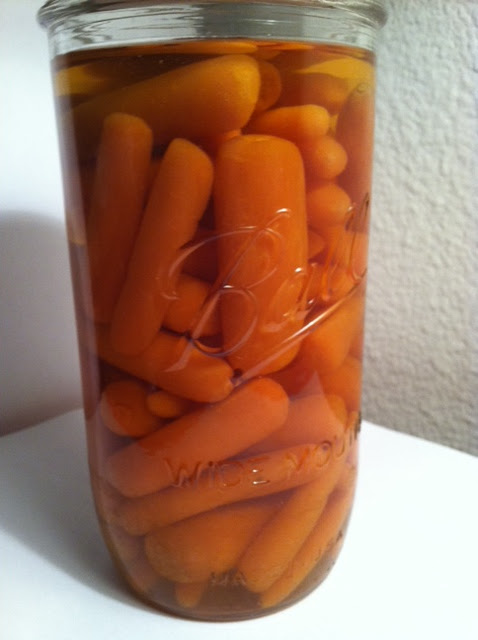 Glazed Carrots
It's really a great recipe and perfect to have for picky kid eaters that don't like their carrots.
Ingredients
6 1/2-7

lbs

carrots

2

cups

brown sugar

2

cups

water

1

cup

orange juice
Instructions
Wash and peel carrots. Wash again. Cut carrots into 3 inch pieces. Slice thicker ends in half lenghtwise.

Combine brown sugar, water and orange juice in saucepot. Cook over medium heat, stirring until sugar dissolves. Keep syrup hot.

Pack carrots tightly into hot jars, leaving 1" headspace. Ladle hot syrup over carrots, leaving 1" headspace.

Remove air bubbles and wipe rims with clean wet papertowel.

Process pints and quarts for 30 minutes at 10 lbs of pressure for weighted gauge and 11lbs for dial gauge.  Adjust for altitude.
Notes
makes 6 pints or 3 quarts