One of my favorite soups is Clam Chowder and the idea that I wouldn't have to spend all day working on getting that soup cooked, creamed, and clams steamed and added sounded intriguing. The Ball Blue Book has the recipe for Chowder base but as many cooks know that clams can very easily be overcooked and become rubbery. The key – clam juice! We decided to omit the clams but add clam juice and processes as directed. We will add fresh clams steamed to the soup when served to keep them from being rubbery.
Here is both the New England and Manhattan recipes for the base:
Makes 10 pints or 20 half pints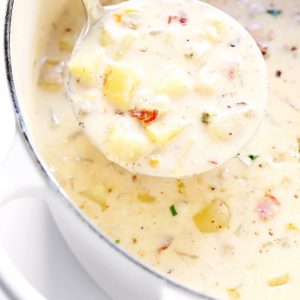 Clam Chowder soup
The thought is how to make this recipe using the ingredients and still get the clam flavor into the base.
Ingredients
1/2

pound

diced salt pork

1

cup

chopped onion (about 1 medium)

3-4

quarts

12 to 16 cups chopped clams with juice

2

quarts

(8 cups) diced and peeled potatoes (about 8 medium)

2

quarts

(8 cups) boiling water

Salt and Pepper
For Mahattan add:
2

cups

cooked tomatoes

1/2

cup

chopped celery

1/2

bay

leaf (remove before canning)

1/2

T.

thyme
Instructions
Cook salt pork until light brown in large saucepot. Drain off excess fat.

Add onion and cook until onion is tender but not brown.

Add clams with juice, potatoes and water. Boil 10 minutes. Season to taste. Only process in half pints or pints.

Ladle hot chowder base into hot jars, leaving 1 inch headspace. Remove air bubbles and refill if necessary to headspace.

Wipe rims with vinegar, then add two piece lid/rings.

Process in pressure canner for 100 minutes at 10 lbs of pressure for weighted gauge canner and 11lbs for dial gauge.
Notes
To serve: For New England Chowder, add 2 T. butter and 2 cups milk to each pint of clam chowder base before heating for serving. Reduce butter and milk by half for each half-pint of Chowder Base. NOTE: Do not add butter and milk before canning!