In my last blog I was working with dried beans which ultimately came from a holiday pot of split pea soup. My hubby makes a great soup and since the weather at our house in Big Bear never got over twenty degrees it was the perfect meal.  We added polska kielbasa instead of ham and it was thicker than he usually makes it. The flavor and consistency was really different. We had a ton left as usual and I didn't bring my canning supplies to the house so we brought back what we had left.
I try to bring my dad lunch everyday and he usually gets the leftovers, but he doesn't mind. That pea soup was ready and waiting on Tuesday for dad to enjoy and most of the time he gives a little critique. After a few moans of delicious and spoonfuls without a breath, the cup was empty and their was an exclamation of "that's the best pea soup I have ever had." Coming from my dad that is quite a compliment. He has traveled every continent in the world and tasted so many versions of pea soup.
The challenge was out there now to make a better soup and my ex took the hook. My ex and I are friends and he spends time playing golf with my dad. That's how he found out about the soup. The next day with a giant pot and a cup heated for tasting he "brought it". Yes a 16 bean soup to try and an attempt to "steal my husband's thunder". One taste was all I really needed to realize something was missing. I just couldn't put my finger on it. After finding out that he made a gallon of this concoction my canning bug took over and offered to fix the recipe and get it into jars for "safe" keeping. A bit of love and 75 minutes later soups in jars!
Here is the recipe for 16 bean soup with a bit of love added: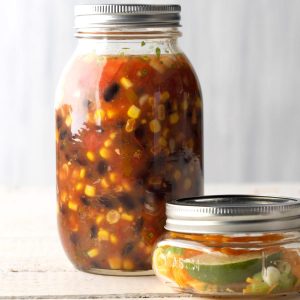 Bean Soup
Ingredients
2

16oz

packets of bean soup

4

PC.

medium onions, chopped

1 1/2

stalk

celery, chopped

4

cloves

garlic, diced

2

PC.

bay leaves

6

PC.

large carrots diced

2

6oz

can diced green chilies

2

8oz

can diced tomatoes

4

cups

ham

1

PC.

large ham bone

3

T.

Kosher salt

3

T.

pepper

14

cups

water
Instructions
Process the beans first. This is the short cut method. Rinse the packets of beans in a colander. Pick out any rocks or bad beans and toss.  Combine beans with 6 cups of water and cook till only boiling. Turn off heat and let beans soak in cooking water for two hours.
Cook and Serve:
In a large stock pot combine all prepped ingredients and 15 cups of water. Drain beans of their cooking liquid and add beans to stock pot. Continue to cook soup for 2 ½ hours never getting to a boil, so as to not split the beans. Remove ham bone.  Serve hot.
For canning:
Cook soup for 1¾ hours also not boiling the mix and prepare jars, lids and rings.

Remove ham bone and ladle soup into 8-10 pint size jars leaving 1 inch of headspace.

Remove air, clean rims, place on lids and rings and pressure can at 10 pounds for 75 minutes. If you are going to use quart size jars process for 90 minutes in pressure canner.
Notes
After canning the expansion of the beans will make the soup thick. When serving the soup add either chicken stock or water to thin.