Funny thing about running a site and a facebook page you find yourself saving "pictures" of recipes you would like to post. When I'm ready to get permission from the author I realize that I forgot to note whose jar it was and then I'm stuck. I have been blessed with some amazing canners on my FB page and I save a lot of great looking jars.  This gorgeous jar below was one of my "mystery" jars and as easy as reposting the picture to the FB page I found the author, Darcie, and connected the two again.
From Darcie:  My husband, who does not like beets, loves this stuff! Good thing as we have been getting beets weekly in our CSA share 🙂
If you love the heat of horseradish and want a new and fresh way to prepare your beets in a small batch variation. Thanks Darcie for all you do on the FB page and your contributions to SB Canning! Enjoy!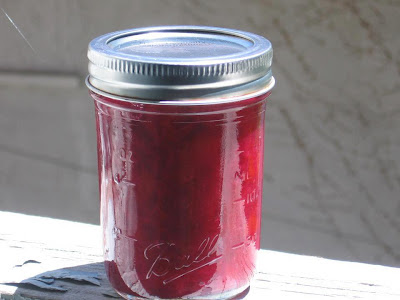 Beet Relish with Horseradish
This is a great recipe to make rather than purchasing it at the store.
Ingredients
3

pc.

medium beets (1 lb)

1

pc.

large onion, finely chopped

2

pc.

sweet red peppers, finely chopped

1

cup

white vinegar

1/2

c

granulated sugar

1

tsp

pickling salt

2/3

cup

grated fresh horseradish
Instructions
Cook beets in boiling water until tender, about 20 minutes. Drain beets, remove skins and chop finely. There should be about 2 cups. Mix beets with onions and peppers.

Combine vinegar, sugar, salt, and horseradish in a large stainless steel or enamel saucepan. Bring to a boil over high heat. Add vegetables. Return to a boil, reduce heat and simmer, uncovered, for 20 minutes, stirring occasionally.

Fill hot, sterilized jars to 1/2 inch headspace. Remove air bubbles, adjust headspace. Wipe rims with a towel dipped in hot water, place hot lids on jars, add ring adjusting to finger tightness. Process in a boiling water bath 15 minutes for half pints and 20 minutes for pints.

NOTES: The recipe says you can use a 14 oz can of beets in place of the fresh ones.  Also, you can use commercially prepared horseradish in pace of the fresh, just double the amount.