I picked up some Peaches from the farmers market this Sunday from one of my favorite stands that will let me purchase seconds for a great deal. I hate for fruit to go to waste and most of the time the fruit is in really good condition but the farmer is very very picky!
The Peaches were a "cling free" variety which means that the pit will come out clean from the flesh when cut in half and separated. This definitely helped with the time in prepping. I loved making the Peach Amaretto Conserve and wanted to find another simple conserve using nuts. This time I picked up the Small Batch Canning book and did an adaptation of the Festive Peach Conserve with Hazelnuts. My adaptation of this recipe still has all of the basics but as you know I am not fond of raisins and the original called for candied cherries which to me reminds me of very bad fruitcake. So I did dried cherries to substitute for the raisins and instead of hazelnuts I chose to use almonds since that is a great flavor combo.
The flavor turned out again amazing. When you make this recipe because you have to work on the building of flavors over time it turns out so rich and luscious. Adding the almonds was just like nuts on the top of a sundae; just the perfect bite. Enjoy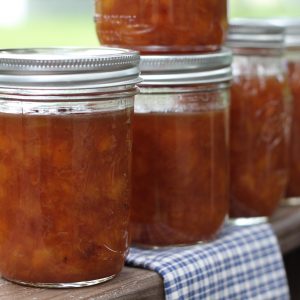 Peach Conserve with Almonds
Peach Conserve with Almonds
Ingredients
1

pc.

each lemon and large orange

3

cups

finely chopped peeled peaches, fresh or frozen

1/2

cup

water or white wine

2

cup

sugar

1/2

cup

dried cherries (you can use raisins or dried cranberries)

1/4

cup

coarsely chopped almonds
Instructions
Remove thin outer rind from orange and lemon with vegetable peeler and cut into fine strips with scissors or sharp knife or use a zester. Remove and discard remaining white rind and seeds. 

Finely chop orange and lemon pulp with a knife. Place rinds and pulp in a large stainless steel  saucepan; add peaches and water/wine.

Bring to a boil over high heat, boil gently, covered for 10 minutes till fruit is tender.

Stir in dried cherries and sugar.

Return to a boil and reduce heat and boil gently uncovered until mixture will form a light gel, about 25 minutes, stirring occasionally. Use the spoon or plate method to test your gel. (Instructions of gel methods at the bottom of this site).

Remove from heat and stir in almonds.

Ladle into hot jars leaving 1/4" headspace. Remove air bubbles, and refill if necessary.

Wipe rim of jars and add hot lids/rings. Process in a water bath for 10 minutes once the water has gotten to a full rolling boil.