One of the first recipes in the new Taste of Home Canning Magazine for the summer 2012 that caught the eye of my sister and I was the Peach Amaretto Conserve. I'm here in Las Vegas to put up about 90 lbs of peach and apricots from her three fruit trees that have been producing such sweet and perfect fruit for canning.
The Peach Amaretto is one of about 10 recipes that we are doing and each one will be showcased on here as soon as I am done on Monday, Memorial Day. I had to post this one first because it is really one of those rare gems of a recipe that you covet the jar and wish that you were making more. Our plan for the evenings festivities is to use this fantastic jar to put on French Vanilla ice cream for dessert after the barbecue we are having. When my sister Cheryl and I tasted it that was the first thing we thought of!
If you get a chance and get 2 lbs of peachs (4 cups cut up) take the time to make this recipe.
Enjoy and Happy Memorial Day. Thanks to those who serve in our military for taking such good care of us and to the families that sacrifice being with their loved ones!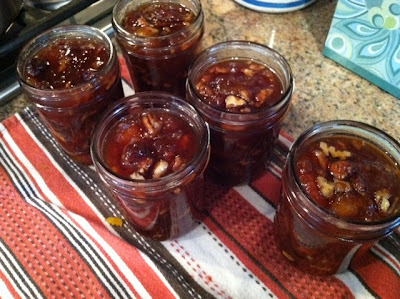 Amaretto Peach Conserve
The Amaretto is fantastic and because it's heated through in the water bath the almond taste is all that is left for flavor. 
Ingredients
1

cups

golden raisins ( we used dried cherries since I don't like raisins)

3/4

cup

boiling water

2

lbs

peaches, peeled and chopped (4 cups chopped)

4

t.

grated orange peel

1/3

cup

orange juice

2

T.

bottled lemon juice

3

cups

sugar

1/2

cup

chopped pecans

3

T.

Amaretto
Instructions
Place raisins in a small bowl. Cover with boiling water; let stand for 5 minutes. Place raisins with liquid in a large saucepan.

Add peaches and orange peel. Bring to a boil. Reduce heat; cover and simmer for 10 to 15 minutes or until peaches are tender;

Stir in orange and lemon juices; return to a boil. Add sugar. Cook uncovered, over medium heat for 25-30 minutes or until thickened, stirring occasionally.

Add pecans; cook 5 minutes longer. Remove from the heat; stir in Amaretto.

Carefully ladle hot mixture into hot half pint jars, leaving 1/4 inch headspace. Remove air bubbles, wipe rims and adjust lids.

Processin in water bath for 10 minutes (recipe says 5 minutes) Makes 5 half pints.