Last night I was working on a couple of recipes that I had seen in the cookbooks when I flipped back over to my FB page to see what was "canning". I was caught by surprise when I saw a jar of meat in a dark liquid and it was Apple Butter Pork Loin posted by Jolene.
If you want to do this recipe in pints fill the jars the same leaving 1″ headspace and process in pressure canner for 75 minutes at 10lbs of pressure for weighted gauge and 11lbs of pressure for dial gauge, adjust for altitude.
So for canning, here are the measurements for Jolene's recipe: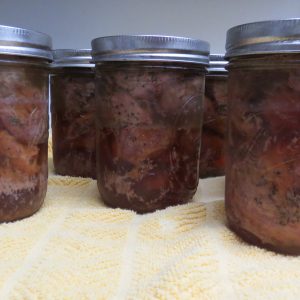 Apple Butter Pork Loin
Jolene found a great recipe on Allrecipes.com for a Pork Loin which is below, but decided to can up the pork to make it easier for a quick meal.  
Ingredients
2

2 pound

boneless pork loin roast

2

cups

apple juice

1/2

cup

apple butter
Instructions
From Jolene:
When I canned it,  I omitted the spices and brown sugar.  I took as much fat as I could off the pork loins and sliced them about 1/2" thick.

Packed them into hot jars, topped with a Tbs or so of my homemade apple butter which mine has enough spices in it, that's why I didn't add anymore.

I added a 1/2 tsp salt and poured hot apple juice over top.

I would of prefered cider, but none to be found, Mott's fresh pressed apple juice is a great substitute for cider.

Run spatula around inside and add more juice to 1" headspace, add lids and process in a pressure canner for 90 minutes for quarts @ 10lbs. of pressure.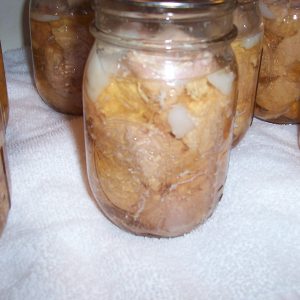 Original Recipe Apple Butter Pork Loin
Here is the original recipe from Allrecipes.com that Jolene adapted for canning.
Ingredients
2

2 pound

boneless pork loin roast

seasoning salt to taste

2

cups

apple juice

1/2

cup

apple butter

1/4

cup

brown sugar

2

tablespoons

water

1/4

teaspoon

ground cinnamon

1/4

teaspoon

ground cloves
Instructions
Preheat the oven to 350 degrees F (175 degrees C). Season the pork loins with seasoning salt, and place them in a 9x13 inch baking dish or small roasting pan.

Pour apple juice over the pork, and cover the dish with a lid or aluminum foil.

Bake for 1 hour in the preheated oven. While the pork is roasting, mix together the apple butter, brown sugar, water, cinnamon, and cloves.

Remove pork roasts from the oven, and spread with apple butter mixture.

Cover, and return to the oven for 2 hours, or until fork-tender.