I hope that the late spring harvest has been filling up jars for you and now that we are officially in summer some of the best recipes are soon to pop up with all kinds of fresh ingredients. One of the latest deals out there have been the price of pineapples. So many pineapple jams and even canning fresh pineapple have been frequent themes on my FB page.
When Heather posted her picture of the latest works of canning she had done it included a pineapple jam but the jar that caught my eye was red but had interesting light colored streaks throughout it. It was beautiful and looked like something strawberry-peach, but to my amazement Heather had done Ambrosia! As a kid I remember the flavor of the whipped cream with pineapple, coconut, and sometimes my mom would add grapes. The flavor of a summer salad that she knew the kids would love.
The Ball Complete Book has taken the old favorite and changed it up to be able to can. I'm not sure that anything can substitute for the original, but I do love the look and idea of these jars. Thank you so much Heather for sharing your work!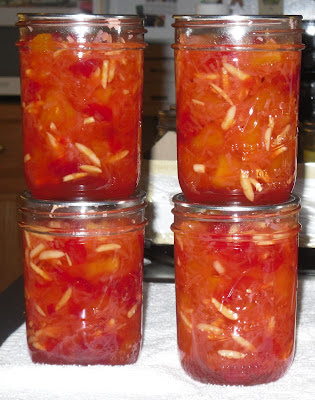 Ambrosia Conserve
Ingredients
5

c

cored, chopped peeled pineapple

Grated zest and juice of 2 medium oranges

5

c

granulated sugar

1

c

flaked coconut (sweetened or unsweetened)

1

c

chopped drained maraschino cherries (or homemade)

1/2

c

slivered almonds
Instructions
Combine pineapple, orange zest, orange juice. Bring to a boil over high heat. Reduce heat and boil gently, stirring occasionally for 10 minutes.

Add sugar, increase heat and return to boil. Boil hard, stirring frequently until mixture thickens (15 min.).

Stir in coconut, cherries, and almonds. Return to a boil, stirring frequently (about 5 minutes).

Ladle into jars, leaving 1/2" head space. Remove air bubbles and refill if necessary.

Wipe rims and add hot lids/rings. Process in a water bath for 15 minutes. Makes about 6 -  8 oz. jars.