Lindsey, one of the canners who visits me at Facebook, "put up" the Tomato Salsa recipe that I posted on Mother's Day. Now people are looking for the recipe because of her fantastic looking jars. Well here they are for all my readers. I have re-posted the recipe so that it is front and center with the jars. Thanks Lindsey for sharing your hard work!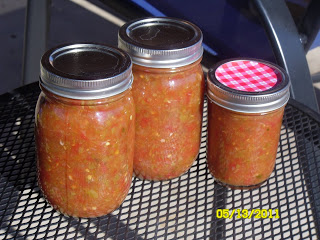 Tomato Salsa
Tomato Salsa 
Ingredients
7

cups

peeled, cored, chopped Roma tomatoes

2

cups

seeded, chopped long green chiles

2 1/2

cups

chopped onion (2 c. yellow & 1/2 c. red)

1/4

cup

seeded, finely chopped jalapeño peppers

3

cloves

garlic, finely chopped

1

cups

bottled lemon or lime juice

1

tablespoons

salt

1/2

tablespoon

black pepper

1

tablespoons

ground cumin (optional)

1

tablespoons

fresh cilantro (optional)
Instructions
The jalapeño peppers do not need to be peeled. The skin of long green chiles may be tough and can be removed by heating the peppers. Usually when peppers are finely chopped, they do not need to be peeled.
If you choose to peel chiles, slit each pepper along the side to allow steam to escape. Peel using one of these two methods:
Oven or broiler method to blister skins - Place chiles in a hot oven (400°F) or broiler for 6 to 8 minutes until skins blister.

Range-top method to blister skins - Cover hot burner (either gas or electric) with heavy wire mesh. Place peppers on burner for several minutes until skins blister.

To peel, after blistering skins, place peppers in a pan and cover with a damp cloth. (This will make peeling the peppers easier.) Cool several minutes; slip off skins. Discard seeds and chop.

Combine all ingredients except cumin, oregano and cilantro in a dutch oven and heat, stirring frequently, until mixture boils. Reduce heat and simmer for 10 minutes, stirring occasionally.

Add spices and simmer for another 20 minutes, stirring occasionally.

Ladle hot into clean, hot pint jars, leaving ½-inch headspace. Remove air bubbles and adjust headspace if needed.

Wipe rims of jars with a dampened, clean paper towel; apply two-piece metal canning lids. Process in a boiling water canner for 15 minutes.
IMPORTANT:
The only change you can safely make in this salsa recipe is to change the amount of spices and herbs. Do not alter the proportions of vegetables to acid and tomatoes because it might make the salsa unsafe. Do not substitute vinegar for the lemon juice.